India surprises by leaving policy rate unchanged, rupee tumbles
Comments
By Reuters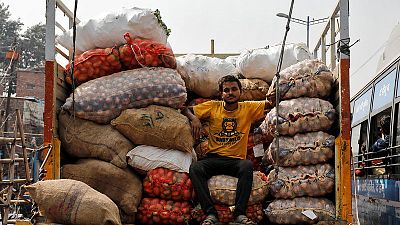 -
By Swati Bhat and Suvashree Choudhury
MUMBAI (Reuters) – The Reserve Bank of India held interest rates unchanged on Friday, condemning the rupee to a record low and surprising analysts who had expected a rate rise to counter inflationary pressures arising from the weak currency and high oil prices.
The RBI's monetary policy committee (MPC) left the repo rate <INREPO=ECI> at 6.50 percent, though 35 out of 64 analysts surveyed by Reuters last week had forecast a rate hike. The MPC also held the reverse repo rate <INRREP=ECI> at 6.25 percent.
The panel however, shifted its policy stance to 'calibrated tightening" from 'neutral'.
Five of the six members voted to leave the rate unchanged this time, after the panel raised them by 25 basis points at each of its two previous meetings since June.
"Today's stance of calibrated tightening essentially means that in this rate cycle a rate cut is off the table, and that we are not bound to increase rates at every meeting," said RBI Governor Urjit Patel at a press conference. "As new data comes in we would look into changing our policies accordingly."
Surprised by the RBI's inaction this time, analysts still expect the central bank to raise rates by at least 50 basis points more going ahead, as inflationary pressures become more pronounced.
The RBI reiterated its target of keeping consumer inflation at 4.00 percent in the medium term on a "durable basis", and projected a rate of 4.8 percent by June 2019, slightly better than the 5.0 percent forecast it gave in August.
The 10-year benchmark bond yield <IN071728G=CC> fell to 8.05 percent from 8.13 percent before the policy was announced, as traders expecting a rate hike were caught wrong-footed.
The rupee <INR=D2> slumped as much 0.9 percent to a new all-time low of 74.23 against the U.S. dollar, weakening from around the 73.65 ahead of the RBI policy statement.
"The first thing that came to my mind when I saw the decision was that RBI seems to be more confident than the market on the dollar-rupee," Ashish Vaidya, executive director and head of trading at DBS Bank in Mumbai.
"It seems like RBI chose financial stability over rupee because there is no strong inflation pressure imminently."
The rupee has fallen more than 14 percent since January, making it the worst performing major Asian emerging market currency.
The decline steepened in recent weeks as rising crude price – India imports two-thirds of its oil needs – and a sell-off by investors in emerging markets cranked up the pressure on the country's external balances. During April-June India's balance of payments slipped into deficit for the first time in six quarters.
Other Asian central banks in nations running trade deficits and exposed to portfolio outflows and higher oil prices have shown more urgency in hiking interest rates.
Last week, Bangko Sentral ng Pilipinas (BSP) hiked rates by 50 bps to 4.50 percent, adding to the three hikes worth 100 bps since May. Bank Indonesia added 25 bps to its four previous hikes this year, bringing rates to 5.75 percent as expected, or 150 bps higher since May.
EXTERNALRISKS
The RBI has also been preoccupied with a liquidity scare arising from a series of debt defaults by Infrastructure Leasing & Financial Services (IL&FS) that sparked redemption pressure at other shadow banking companies.
But the policy statement contained little on that, as the central bank has aggressively bought government bonds through open market operations to keep markets liquid, rather than resort to administrative measures to release more cash into the system.
In its statement, the RBI noted substantial external risks to the growth and inflation outlook, due to escalating trade tensions, rising oil prices, and tightening financial conditions globally.
The RBI said that made it vital "to further strengthen domestic macroeconomic fundamentals."
With a general election due by May next year, Prime Minister Narendra Modi's Hindu nationalist party will want to campaign on strong economic growth and success in containing inflation.
Taking a more gradual approach to raising rates should make it easier to sustain economic growth, with the RBI forecasting expansion of 7.4 percent for the financial year ending in March and 7.6 percent for the following year.
(Additional reporting by Sankalp Phartiyal and Rajendra Jadhav; Writing by Euan Rocha; Editing by Simon Cameron-Moore)