ECB's De Guindos urges fiscal prudence amid Italy's budget
Comments
By Reuters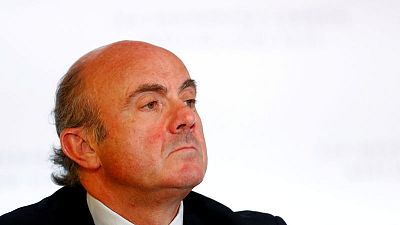 -
MADRID (Reuters) – Indebted euro zone countries must stick to budget rules and set funds aside for times of crisis, the European Central Bank's vice-president said on Friday, as investors still grappled with Italy's new deficit forecasts which contravene EU requirements.
Luis De Guindos, who did not mention Italy in his speech, was repeating a long-standing ECB plea for euro zone governments to respect European Union fiscal rules as a precondition for winning over investors and laying the groundwork for a common crisis-fighting fund.
But his remarks are likely to be taken as a warning to Italy. The new government has trebled the deficit forecast for next year in violation of EU budget rules which oblige Italy to cut debt every year and turn its structural deficit into a surplus.
"The top priority in this area is for national policymakers to build up fiscal buffers to ensure policy space for future downturns," De Guindos told an academic audience in Madrid.
"This is particularly important in countries where government debt is high and for which full adherence to the Stability and Growth Pact is critical for safeguarding sound fiscal positions," he added.
De Guindos also said he was optimistic that EU governments would "soon" reach a deal about a common fiscal facility – political parlance for a common fund designed to fight crises.
Italy's draft budget has set Rome on a collision course with the European Commission and rattled the bond market.
ECB President Mario Draghi met Italian President Sergio Mattarella on Monday to discuss the budget, a source told Reuters earlier on Friday.
Formed in June by the anti-establishment 5-Star Movement and the right-wing League, the Italian government has set a deficit of 2.4 percent of gross domestic product next year to help pay for election promises such as lowering the retirement age, cutting taxes, investing in infrastructure and boosting welfare.
After his speech, De Guindos said he was optimistic that the euro zone would create a common fund "relatively fast", followed "a little later" by a long-delayed guarantee scheme on bank deposits.
"The important thing is to continue taking steps… and that simultaneously the anti-European populist movements that undoubtedly exist do not prevail," he added.
(Reporting By Jesus AguadWriting by Francesco Canepa in Frankfurt; Editing by Raissa Kasolowsky)