Cameroon insurgency drains life from once vibrant towns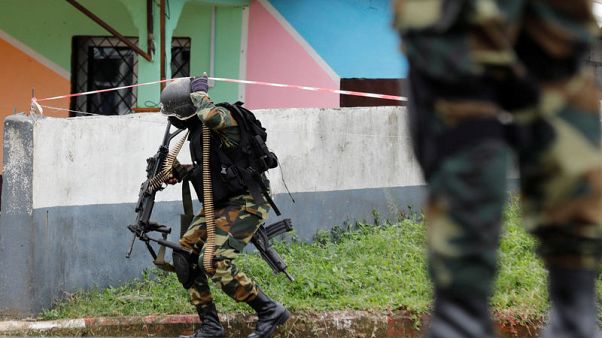 -
By Edward McAllister
EKONA, Cameroon (Reuters) – A unit of Cameroon's special forces edged up the winding main road of what used to be a functioning village, past the rusted shell of a burnt-out lorry loaded with smashed beer bottles, past an abandoned church and a shuttered bar.
Ekona's thousands of residents have fled fighting between the army and separatist militias in the Southwest region in recent weeks, leaving behind the only testimony they could: squat, tin-roofed houses gutted by fire, power lines strewn on overgrown verges and, above all, silence.
"It is weird. There used to be shops here, it used to be normal," said Captain Guy Herve Onambele, surveying the wreckage from his jeep protected by military trucks full of soldiers.
"The separatists used to come here and hide. A lot of people from the area joined the secessionists."
Army officials generally play down the impact that a year-old armed secessionist insurgency has had in the English-speaking Northwest and Southwest regions and say that an offensive this year has pushed back the threat. Yet on Thursday, soldiers from Cameroon's Rapid Intervention Brigade (BIR), sporting full combat gear, vigilantly scanned Ekona's roadsides for threats, their automatic rifles raised.
Residents in the area are not convinced either.
SHELTER
In the weeks preceding Sunday's presidential elections, towns and villages in the region have been drained of life as thousands seek shelter in the French-speaking cities of Douala and Yaounde. [nL8N1WJ6KD]
Armed separatists have vowed to stop the election in English-speaking areas, potentially disenfranchising about one in five voters and, ironically, helping President Paul Biya, who heads a Francophone-dominated government, extend his 36 years in power.
In the once thriving city of Buea, 10 km (6 miles) from Ekona, most stores are closed on the order of separatists who want to shut down all activity in the region as part of their bid to halt the polls there. Those that do not close risk the ire of the insurgents.
The bus station, normally a busy hub for surrounding villages, is empty, its muddy lot filled with litter. Bullet casings are scattered at the scene of recent firefights. Old fires have scarred the tarmac of the now quiet streets.
"You can see for yourself," said 29-year-old clothes seller Diale Florence in the Mile 16 area of Buea, gesturing at an upturned car in a puddle, burnt white after an attack three weeks ago that the army says was orchestrated by separatists.
"Everyone has left."
"FRYINGPOPCORN"
Buea, the Southwest region's spacious, green capital, sits on the eastern flank of Mount Cameroon, a volcano which rises from the rubber and banana plantations of the plains high above the dense treeline before being lost in rings of lowering cloud.
The sight used to attract tourists from across the world. Then the Anlgophone crisis hit. Protests calling for better treatment of the English-speaking regions by the French-speaking majority in 2016 were shut down by the military. The movement became radicalised after civilian deaths and armed groups calling for separation emerged.
The plantations are now emptied out, leaving bananas to rot on the trees. Cassava, potatoes and corn are wasting unharvested in the farms, local residents said.
Since 2016, Buea's population has fallen from 200,000 people to about 10,000 today, said local traditional chief Derick Woteva Wambo.
"The schools have been closed for two years, the children are at home," said Wambo. That includes his seven-year-old daughter who is so used to the sound of gunfire that she says it sounds like the fighters are "frying popcorn again".
Wambo has become accustomed to violence too. At 6:30 on the morning of Sept. 27, he received a call saying the military had shot some suspected separatist fighters in a nearby house. The army denies this.
When he arrived an hour later, he entered the house to find six young men, one in a chair, another slumped behind a door, all shot dead. A seventh man had been taken away, he said.
And yet, after a year of trauma, he took in the scene with little emotion.
"For me it was normal," Wambo said. " I have seen this before."
(Reporting by Edward McAllister; Editing by Giles Elgood)
euronews provides breaking news articles from reuters as a service to its readers, but does not edit the articles it publishes. Articles appear on euronews.com for a limited time.