Brazil front-runner Bolsonaro misses last presidential debate
Comments
By Reuters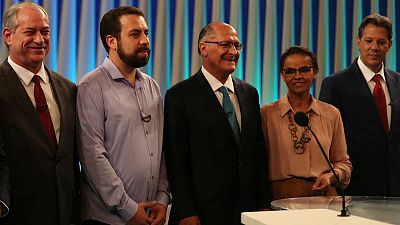 -
BRASILIA (Reuters) – Brazil's presidential election race entered its last 48 hours on Friday, with far-right front-runner Jair Bolsonaro recovering from a near-fatal stabbing that kept him out of the final presidential debate on the country's largest network, TV Globo.
Bolsonaro said he was under doctors' orders to stay away, but gave an interview that aired on a rival network at the same time as the debate, raising criticism from other candidates that he was dodging discussion and unprepared to lead the nation.
On the last day of campaigning, final opinion polls ahead of Sunday's vote are likely to show the most polarized election in a generation going to a run-off vote between Bolsonaro and leftist Workers Party candidate Fernando Haddad.
"This is wrong. Bolsonaro is avoiding his duty to the population. Anyone who hides from debate and does not show up lacks the qualities needed to govern a country," said former finance minister Henrique Meirelles, who is running for the ruling MDB party.
In an interview with TV Record that is owned by a supporter, evangelical Christian bishop and media mogul Edir Macedo, Bolsonaro slammed his rival for being a "puppet" of jailed former president Luiz Inacio Lula da Silva.
Haddad, a former mayor of Sao Paulo, was confirmed as top of the Workers Party ticket three weeks ago, replacing Lula, who was barred from running due to a corruption conviction.
Earlier, in a live speech over Facebook, Bolsonaro rejected accusations he was racist, sexist and homophobic, though he has faced charges for hate speech against these groups.
The former army captain has surged in the election, even though his party is very small, because he has tapped into the anger of Brazilians with rampant political corruption and rising crime.
Bolsonaro, an admirer of Brazil's 1964-1985 military dictatorship, is running on a law-and-order platform and would ease gun controls so Brazilians can arm themselves against criminals.
He has won massive support from the fast-growing evangelical community by vowing to block the legalization of abortion, gay marriage and drugs.
Brazilian markets have rallied on the prospect of Bolsonaro stopping a return to power by the Workers Party, which investors blame for plunging Brazil into its worst recession in 2015-2016.
Yet Bolsonaro's economic positions remain unclear. Last week he asked his economic advisor Paulo Guedes and his running mate retired general Hamilton Mourão to hold off on making public statements after contradictions emerged over economic policy.
(Reporting by Anthony Boadle; Editing by Clarence Fernandez)