Risks facing Japan have increased amid trade tensions - IMF
Comments
By Reuters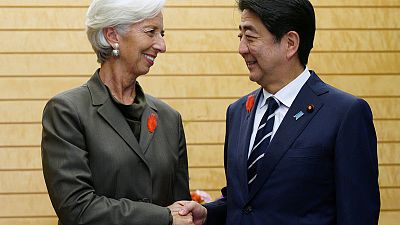 -
By Tetsushi Kajimoto and Stanley White
TOKYO (Reuters) – Japan faces increased risks given global trade tensions and uncertainty over the impact of its planned sales tax hike, the International Monetary Fund warned on Thursday.
The IMF said sharper-than-expected volatility in private consumption due to the planned tax increase next year could dent growth momentum, while weaker global demand and uncertainty over trade tensions could trigger yen spikes, hit stock markets and revive deflationary risks, the IMF said.
An accommodative monetary policy should be maintained in Japan, the IMF said in a statement after its annual "Article 4" consultations on economic policy with Japanese policymakers.
The Bank of Japan should maintain its long-term interest rate target while strengthening policy credibility so as to prevent recurrent speculations of an earlier-than-expected normalisation, it added.
At the same time, the IMF cautioned that continued monetary accommodation could encourage financial institutions to engage in excessive risk taking, and low interest rates exacerbate ongoing challenges for Japan's financial system.
"Fiscal sustainability concerns and associated bond market stress could have adverse feedback effects on the financial system and the real economy," it added.
At a news conference, IMF Managing Director Christine Lagarde welcomed the BOJ's initiative in July to make its monetary policy sustainable by allowing more flexibility in long-term yields and adopting forward guidance on interest rates.
Asked about the timing of the planned sales tax hike, Lagarde called on Tokyo to proceed with the increase to 10 percent, as planned in October 2019, and bring it to 15 percent gradually over the medium- to long-term to sustain Japan's public finances.
"There is never any period which is without risk. There's always some risk. Clearly, the Japanese economy is at a juncture where growth has been strong. We clearly have forecast growth above potential. We are at a juncture that is probably best suited for what is very much needed," she said.
"We have consistently said that consumption tax is needed to increase the revenue of Japan in order to deal with those challenges in order to address health care and finance its education and to allocate some of the proceeds to reduce the debt burden."
Lagarde called for "mitigating measures" to cushion an expected blow from the sales tax hike, as the 2014 rise to 8 percent from 5 percent triggered a downturn.
(Reporting by Tetsushi Kajimoto and Stanley White; Editing by Richard Borsuk)