Brazil's Haddad rides Lula coattails, risking backlash
Comments
By Reuters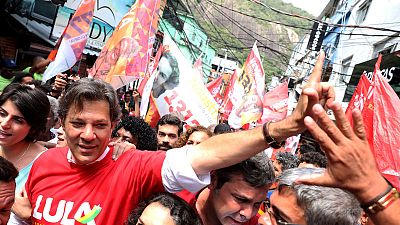 -
By Lisandra Paraguassu
BRASILIA (Reuters) – "Hadah?" "Hadila?" "Andrade?" When Fernando Haddad took over the Workers Party's presidential ticket, replacing its jailed founder, the former Sao Paulo mayor heard a host of creative pronunciations from supporters who had never heard his name.
Yet voters understood what the stand-in for former president Luiz Inacio Lula da Silva represented as he took centre stage in the final weeks before Sunday's election in Brazil: "Haddad is Lula! Lula is Haddad!" his campaign slogan declared.
The message helped him surge in opinion polls to challenge right-wing front-runner Jair Bolsonaro, whom he is expected to face in a second-round runoff later this month.
Promising to make "Brazil happy again," 55-year-old Haddad has played to the nostalgia of working-class Brazilians whose standard of living rose sharply a decade ago thanks to Lula's generous social programs amid a global commodities boom.
The message has connected with poorer voters in Workers Party bastions such as northeast Brazil, even if they struggle with his name of Lebanese origin.
Yet he faces a backlash from Brazilians blaming Lula and the Workers Party for rampant corruption and a deep economic downturn after running the country for 13 of the last 15 years.
Haddad's challenge will be to shed the image of Lula's pawn, cope with party leaders sceptical of his rise and convince voters he can avoid the economic missteps of recent years and the graft scandals that stain Lula's legacy.
A mild-mannered law professor with an economics degree and only one electoral victory to his name, Haddad has begun working to calm investors scarred by the public spending spree under Lula's last handpicked successor, Dilma Rousseff, who was impeached in 2016 for breaking budget rules.
In August, Haddad told Reuters he was meeting with several banks and investment firms to tame fears of a leftist return to power — an echo of Lula's move toward the centre in 2002 when he won his first term after pledging orthodox economic policies.
Financial analysts said investors found him more open than they had expected and more reasonable than the Workers Party as a whole, though concerns remain over a leftist turn in policies.
"Haddad is moving towards the centre economically and we can expect a government that is closer to Lula's first term administration than to Dilma Rousseff's in terms of economic orthodoxy," said Fabio Knijnik, a Stanford-trained economist and managing director for Sao Paulo-based wealth fund K2 Capital.
ROUSSEFFCRITIC
Haddad, who served as education minister under Lula and rode his mentor's popularity to Sao Paulo City Hall, has publicly criticized certain Rousseff policies that economists fault for deepening Brazil's worst recession in a generation.
In a magazine article last year, he questioned her efforts to contain inflation by holding down costs of public services such as electricity rates and gasoline prices.
"Something was very wrong. No one thinks of controlling inflation of a continental-sized country by holding back municipal tariffs," Haddad wrote in Piaui magazine. "Macroeconomic stability cannot be achieved through microeconomic intervention."
Haddad's 2016 mayoral re-election bid met with a stunning first-round defeat but he boasts of leaving Brazil's biggest city with funds for long-term investment, a restructured debt load and investment grade from international ratings agencies.
Knijnik said Haddad would move further to the centre ahead of a second-round vote and could pick an economist at odds with many in the Workers Party without losing the party's base.
The market expects Haddad to stay close to current economic advisor Marcos Lisboa, who is well respected by investors.
Haddad has also said he would respect concessions signed with foreign oil companies to develop vast offshore oil fields rather than tear them up as leftist rivals and many in his party have proposed.
Samuel Pessoa, an economist who has known Haddad since they studied together at university, said the former mayor had little in common with the more militant left-wing factions of his party, known as the PT for its initials in Portuguese.
"He is very different from the PT. Fernando is a democrat and not an adventurer," Pessoa said.
While Haddad and his party call for abolishing labour reforms enacted after Rousseff was ousted in 2016, his proposals to overhaul Brazil's costly pension system to bring down a gaping budget deficit could meet with resistance from fellow partisans.
Haddad accepts the need to create a minimum retirement age, which is anathema to the party, and he recently said "nothing is taboo" when it comes to reforms, shocking party leaders who distrust his more orthodox approach to economic policy.
LULA'S LAWYER
Long considered Lula's golden boy, the key test of Haddad's independence if elected may be whether he can resist pressure in the party to free his mentor, who is serving a more than 12-year prison sentence for his role in a graft scheme involving contracts at state oil firm Petroleo Brasileiro SA.
Haddad has vowed there is no way he would pardon Lula.
Still, he remains a member of Lula's legal team, paying weekly visits to the former president in his prison cell and advocating for his freedom in Brazilian courts and international forums. He describes Lula as a key advisor but denied the jailed leader would have any role in his government if he is elected.
"The ideas that I defend have been discussed with Lula and have his endorsement," Haddad told Reuters in an interview. Haddad drafted his party's platform for Lula and was considered a candidate for finance minister if the former president had been allowed to run.
Those close to Haddad say despite his loyalty to Lula, the two have had their differences, including key appointments during his time as education minister. Haddad's friction with the rest of the party has been even more acute.
The best known incident came shortly after he became mayor of Sao Paulo, when Rousseff called him to Brasilia and asked him to put off a planned hike to city bus fares, needed to shrink its budget deficit. Haddad proposed using a federal fuel tax to subsidize bus fares, which Rousseff denied.
Haddad held out until May before budget constraints forced him to hike bus fares, triggering huge street protests that spread to the rest of the country, in the biggest wave of unrest seen in Brazil since the end of military rule in 1985.
In an unexpected twist, the protest movement eventually provided the popular momentum that would underpin Rousseff's impeachment in 2016.
GRAPHIC – Polling, issues and leading candidates in Brazil's election: https://tmsnrt.rs/2Ixe0NI
(Reporting by Lisandra Paraguassú; Writing and additional reporting by Anthony Boadle; Editing by Brad Haynes and Alistair Bell)