Honda to invest $2.75 billion in GM's Cruise self-driving unit
Comments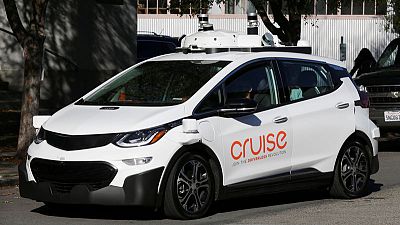 -
By Nick Carey and Paul Lienert
WARREN, Mich (Reuters) – Honda Motor Co Ltd will invest $2.75 billion (2.11 billion pounds) in General Motors Co's Cruise Automation, the second outside multibillion-dollar commitment to the self-driving vehicle unit this year and an affirmation of the U.S. automaker's strategy for the emerging technology.
Honda, which has lagged behind many of its rivals in developing self-driving vehicles, is paying $750 million upfront for a 5.7 percent stake in Cruise and will contribute another $2 billion over 12 years in development work and fees, the companies said on Wednesday.
The deal, which calls for Honda to provide engineering expertise, extends cooperation between the two automakers in a technology that has enormous costs and risk but no market-ready products.
Other global automakers are forging similar alliances to share the uncertainty and huge price of developing technologies that have yet to gain widespread consumer acceptance.
GM shares were up 3.1 percent in early afternoon trade.
In May, Japan's SoftBank Group said it would buy stakes in Cruise totalling 19.6 percent for $2.25 billion.
Where SoftBank is primarily a financial partner, "we view Honda as a strategic investor," sharing in vehicle, systems and business development with GM, wrote RBC analyst Joseph Spak in an investor note.
In a blog post early Wednesday, Cruise Chief Executive and co-founder Kyle Vogt joked: "Honda is joining the party. They're bringing chips, dip, and $2.75 billion."
Honda's investment boosts the value of Cruise to $14.6 billion – about a third of GM's market cap, $48 billion. GM acquired the San Francisco-based startup in March 2016 for a reported $1 billion.
By comparison, analysts have pegged the value of Alphabet Inc's Waymo self-driving unit as high as $175 billion. Honda has had discussions for two years with Waymo about possible collaboration, but no deal has been announced.
In a media briefing on Wednesday, GM President Dan Ammann said 2019 "remains the goal" for GM Cruise to launch a self-driving ride services fleet. He added: "The longstanding relationship we have with Honda will allow us to move very quickly in ramping up our efforts."
In January, GM filed a petition seeking U.S. government approval for a fully self-driving car – one without a steering wheel, brake pedal or accelerator pedal – to enter the automaker's first commercial ride-sharing fleet in 2019.
Ammann declined on Wednesday to provide a more specific timeline for the vehicle.
GM has been "very selective in our approach" to investors in Cruise and "we will evaluate other investment opportunities as they come along," he said.
Ammann later told investors: "We're moving as quickly as we can to get to the point where we can initially deploy the technology and then scale it … This is an effort that requires very, very significant resources to pull off."
Ammann said Honda will contribute its engineering know-how and will help GM Cruise build a global ride services business.
GM Cruise and Waymo are often described as leading the pack of technology and auto companies competing to create self-driving cars and integrate them into ride services fleets.
Honda executive Seiji Kuraishi said: "This investment is based on a shared vision and their (GM's and Cruise's) superior technologies in this area."
GM Cruise has a test fleet of more than 100 self-driving versions of the Chevrolet Bolt AV, rebadged as Cruise AV.
GM CEO Mary Barra said the automaker is still focused on testing self-driving vehicles in San Francisco before expanding to other markets.
Waymo has agreements with Fiat Chrysler Automobiles and Jaguar Land Rover [TAMOJL.UL] to buy and equip tens of thousands of vehicles with its self-driving systems.
Other automakers are exploring similar tie-ups to help mitigate risk and cost, according to Autotrader analyst Michelle Krebs, who said the GM-Honda deal "demonstrates that global partnerships like these … are necessary to take on these expensive ventures that likely will not return a profit in the near-term."
BMW, which has a development partnership with suppliers Intel Corp, Aptiv PLC and Magna International, expects some rivals and ride services companies to join its consortium for developing self-driving cars as auto industry profits come under increasing pressure, board member Klaus Froehlich said on Tuesday.
At the Paris Auto Show on Wednesday, the heads of Daimler AG and Renault said the two companies may expand their cooperation to batteries, self-driving vehicles and mobility services.
The GM-Honda announcement extends a partnership that includes joint development of electric vehicles with hydrogen fuel cells that are expected to go on sale in 2020. In June, Honda also said it would buy advanced batteries from GM in a move that could significantly reduce the cost of future electric vehicles at both automakers after 2020.
(Reporting by Nick Carey in Warren, Mich.; additional reporting by Arunima Banerjee in Bengaluru; Paul Lienert and Ben Klayman in Detroit; David Shepardson in Washington; Editing by Steve Orlofsky)
euronews provides breaking news articles from reuters as a service to its readers, but does not edit the articles it publishes. Articles appear on euronews.com for a limited time.