EU lawmakers to vote on CO2 cut for cars, vans
Comments
By Reuters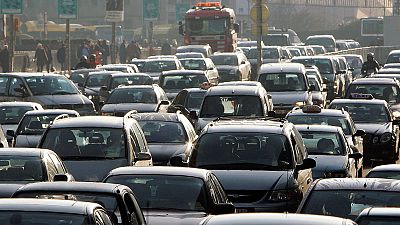 -
STRASBOURG (Reuters) – EU lawmakers are expected to back more ambitious targets for cuts in carbon dioxide emissions for cars and vans in a vote on Wednesday that will set the stage for a tough fight with national governments.
Parties in the European Parliament have tussled until the final hours before the vote on how tough to make the curbs on one of Europe's most important industries, part of efforts to reduce greenhouse gas emissions.
The environment committee, which leans towards tougher action on climate change than the chamber as a whole, backed a reduction of 45 percent by 2030 on emissions of carmakers' fleets of cars and vans in a vote last month.
But the biggest political group, the centre-right European People's Party, did not back the tighter target, concerned it could harm the industry's competitiveness. Lawmakers have been haggling to reach a compromise before the vote.
"The vote will be really, really close," said Julia Poliscanova, an expert with Brussels-based campaign group Transport and Environment.
The EU executive draft law proposes less exacting CO2 reduction targets of 15 percent by 2025 and 30 percent by 2030 compared to 2021 levels.
Wednesday's vote will set lawmakers' position for negotiations on the final targets with the bloc's 28 member states, who are still debating their position.
Germany, voicing worries that more ambitious climate targets will cost jobs in its big automotive sector, has said it will back the European Commission's initial proposal.
But other EU governments, including France, are seeking a higher target.
Volkswagen's <VOWG_p.DE> admission in 2015 that it had masked exhaust emissions using software in as many as 11 million diesel vehicles worldwide has galvanised EU regulators into setting tougher rules.[L5N1UL2JU]
"Auto manufacturers and certain governments have not learned their lessons from the Dieselgate scandal," said Karima Delli, chair of the European Parliament's Transport Committee.
"Today the parliament will send a clear message: either we enter the 21st century or we drag our feet."
Germany set out its own plans on Tuesday to cut pollution from older diesel vehicles by asking carmakers to offer trade-in incentives and hardware fixes.
The EU's new rules aim to help meet the bloc's goal of reducing greenhouse gas emissions by at least 40 percent below 1990 levels by 2030.
They will introduce a credit system for carmakers to encourage the rollout of electric vehicles, as well as fines for exceeding CO2 limits.
Under the plan, carmakers would be able to lower their CO2 targets by meeting a benchmark for the sale of zero- and low-emission vehicles as a share of their total new car sales.
An amendment floated by lawmakers also proposes to add penalties if manufacturers fail to meet that benchmark.
The European carmakers' lobby, however, has said a stricter CO2 curb than the 30 percent proposed by the Commission was unrealistic and a threat to the sector's growth.
(Reporting by Alissa de Carbonnel and Daphne Psaledakis; Editing by Keith Weir)