ECB may need to take bigger role to promote instant payments - Mersch
Comments
By Reuters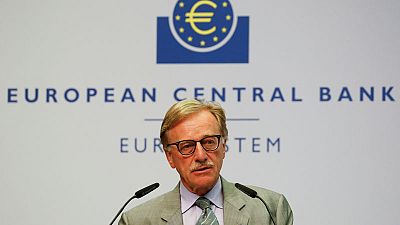 -
RIGA (Reuters) – Europe needs a wide-reaching, cheap and instant retail payment system to stop overseas competitors taking this market and the European Central Bank should consider taking a bigger role in the field, ECB board member Yves Mersch said on Wednesday.
Instant payment systems are already in place from mobile payment services to point-of-sale payments but most are limited in their geographic reach, leaving PayPal and big American IT firms dominating the market.
"Payment service providers around Europe need to start offering their customers instant payment services. And they need to do so quickly," Mersch told a conference in Riga.
"To promote euro area-wide, smooth and efficient payment systems in line with our mandate, we might even have to reflect on whether broader access to central bank accounts for retail purposes may be needed," he added.
Such a system would only work if it is truly pan-European, instant, cheap and not restricted to a particular group of clients, Mersch added.
PayPal now dominates the European market for online payments but players such as Google, Apple, Facebook, Amazon and Chinese giants like Alibaba and Tencent are also taking market share.
Mersch added that ultimately it will be the responsibility of each service provider to gain the necessary size but noted that the November launch of the ECB's instant payment system between banks, called TARGET Instant Payment Settlement, could provide a foundation.
(Reporting by Gederts Gelzis; Writing by Balazs Koranyi; Editing by Andrew Heavens)