Thousands rally in Yerevan to demand early parliamentary vote
Comments
By Reuters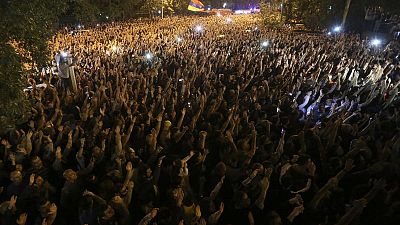 YEREVAN (Reuters) – Thousands gathered outside the parliament building in the Armenian capital Yerevan on Tuesday to demand early parliamentary elections, led by Prime Minister Nikol Pashinyan.
The former ruling Republican Party was toppled in spring following weeks of mass protests against corruption and cronyism.
Pashinyan, the former opposition leader, became prime minister in May, appointed allies as ministers and submitted a new government programme which promised early elections and was approved by the parliament in June.
The latest protest was triggered by parliament's sudden decision on Tuesday to approve changes to parliamentary regulations which may delay such elections.
The changes were supported by Republicans and also two factions, Prosperous Armenia and Dashnaktsutyun, which had supported Pashinyan during the unrest earlier this year.
Speaking to the rally on Tuesday, Pashinyan promised to sack six ministers in his government from Prosperous Armenia and Dashnaktsutyun and said he would meet lawmakers to discuss the situation.
He said he wanted elections to be held in the first half of December, adding that the composition of parliament did not reflect the country's political reality.
"Holding early parliamentary elections was one of the conditions of our velvet revolution and was included in the government programme, which was approved by the parliament," Pashinyan told the protesters.
Public support for parties not affiliated with Pashinyan is currently very low – not only for the Republicans but others including Prosperous Armenia and Dashnaktsutyun.
The My Step Alliance, which includes Pashinyan's Civil Contract Party, won 81 percent of the mayoral vote in Yerevan last month.
Early parliamentary elections can be called in the ex-Soviet country of three million people if parliament fails twice to choose a new prime minister and the legislature is dissolved.
Pashinyan said he was ready to resign so that this procedure could be implemented and elections held.
(Reporting by Hasmik Mkrtchyan; writing by Margarita Antidze; editing by Andrew Roche)