Liga determined to play games in U.S. despite 'cultural wall' of opposition - Tebas
Comments
By Reuters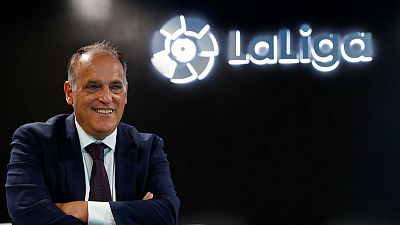 -
By Richard Martin
MADRID (Reuters) – Spain's La Liga remains committed to playing Barcelona's league match with Girona in Miami, despite opposition to the plans, the organisation's president Javier Tebas told Reuters.
The Spanish football federation (RFEF) has put the brakes on the league's plans by demanding more information on January's game, which must also be approved by the United States soccer federation and regional bodies UEFA and CONCACAF.
"Playing in the United States is vital to our strategy there and we won't relent on what is our right," Tebas said in an exclusive interview at La Liga's headquarters on Tuesday.
"If you want to make your industry more global, as La Liga wants to, if you want to be among the biggest industries in world sport then you have to be immersed in the U.S. market.
"For us the United States is the second biggest market for television rights, it's a very consolidated sports industry, with huge growth on social media and digital platforms."
The Miami match between Girona and Barcelona would be the first game to take place as part of a 15-year deal struck between La Liga and entertainment company 'Relevent' to play one Spanish regular season game Stateside every year.
'Relevent' organises soccer's International Champions Cup tournament held in North America, Asia and Europe in which Barcelona, Real Madrid and Atletico Madrid frequently participate.
'Relevent' also organised a friendly 'Clasico' between Real and Barca in 2017 which saw 65,000 fans cram into the Hard Rock Stadium in Miami.
Tebas's plans have proved controversial, however.
FIFA president Gianni Infantino has voiced his opposition to the game, saying "home matches should be played at home, not in a foreign country".
Spanish federation president Luis Rubiales meanwhile has said it is not possible to take a regular season game abroad, despite breaking with convention by holding this year's Spanish Super Cup in Tangier, Morocco.
The Spanish footballer's union (AFE) has also spoken out against the plans in the interests of the health of players.
'CULTURALWALL'
"It's not easy to take a game out of its usual competition and we knew we would meet a cultural wall of European and Spanish institutions, but we began this process two years ago and we're going to keep working to make it happen," Tebas said.
He also dismissed concerns aired by Real Madrid coach Julen Lopetegui, who said playing games abroad distorts the concept that each team should play at its own ground.
"There are many things that danger the integrity of a competition. In a World Cup a team playing a World cup semi-final on Tuesday has a greater advantage in the final than the team playing on Wednesday," Tebas said.
"Teams have also played at other stadiums while their grounds are being renovated or in order to generate more revenue. If we really believe in this sporting puritanism then we would need to make many changes in football."
Real president Florentino Perez declaring last month that the triple European champions do not wish to be part of the plans to play in the U.S. appeared to be another setback to the proposal, although Tebas said no club is obliged to take part.
"It's voluntary, so if Real Madrid don't want to go they won't. But you have to remember that Real Madrid have played in many tournaments in the U.S. organised by 'Relevent' so it's not a coherent argument, but we're not concerned," added Tebas, who said his plans have the backing of the majority of Liga clubs.
FOREIGNEXPANSION
Tebas has overseen a massive foreign expansion strategy in an attempt to bridge the revenue gap with England's Premier League.
The English competition still out-earns the Spanish top flight, boasting income of 4.5 billion pounds ($5.83 billion) from the 2016/17 season compared to the 3.6 billion euros ($4.15 billion) posted by La Liga.
The Spanish league has stepped up its operation in Asia, including opening offices in Hong Kong, Shanghai and New Delhi, and striking a deal with Facebook allowing fans in the Indian sub-continent to watch every game for free.
Tebas, however, ruled out taking Spanish matches to Asia for now.
"In the short term we haven't got plans to play in Asia, right now the U.S. is where we need to work in order to grow our brand," he said.
The La Liga chief also attempted to assuage concerns that playing top flight games in the U.S. would tread on the toes of the country's domestic competition Major League Soccer (MLS).
"Football (soccer) is the most played sport in schools in the U.S. and so many people want to watch the biggest matches. It's a very big market and there's room for everyone, for the MLS, the Mexican league and for us," he said.
"This will promote the game and make more people want to watch the MLS. We're going to play a game in the United States to promote our league and football in general, and I think that's very positive.
"I don't see it as a threat to other leagues, we see it as an opportunity to promote and grow the industry, which is important for everyone."
(Reporting by Richard Martin; Editing by Ossian Shine)