Chilean president to meet Pope amid Catholic Church abuse crisis
Comments
By Reuters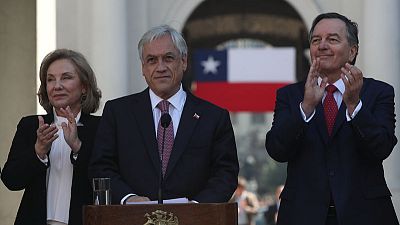 By Aislinn Laing and Natalia A. Ramos Miranda
(Reuters) – Chilean President Sebastian Pinera will meet Pope Francis in Rome later this month during a tour of Europe, as the Roman Catholic Church in Chile faces a crisis over claims of sexual abuse and cover-ups.
A spokesman for Pinera said he will meet the pontiff at the Vatican during a tour of France, Spain, Germany and Belgium that begins on Friday. A Vatican spokesman confirmed the meeting would take place on Saturday morning.
The spokesman for Pinera declined to discuss who had requested the meeting or what would be discussed but said the president would visit Italy only for the purpose of seeing the pope.
Pinera, a Catholic who presides over a right-wing party with traditionally close ties to the Church, has remained largely silent on Chile's abuse crisis. His uncle is Bernardino Pinera, 102, a retired cleric who is the oldest living Catholic bishop.
So far the pope has accepted the resignations of seven of Chile's 34 bishops and Chilean civil justice has investigated 119 allegations of sexual abuse or cover-ups involving 167 church workers including Cardinal Ricardo Ezzati, the archbishop of Santiago.
Last month, Pinera told a church service to celebrate independence day that he hoped the local Catholic Church would face the "dark times" and learn from them. "The church knows more than anyone that it was wrong," he said.
Ezzati is due to be questioned on Wednesday by a civilian prosecutor over allegations he covered-up child abuse. The cardinal has maintained his innocence.
(Reporting by Aislinn Laing and Natalia Ramos)