Paws for peace - North Korea's Kim sends two dogs across DMZ
Comments
By Reuters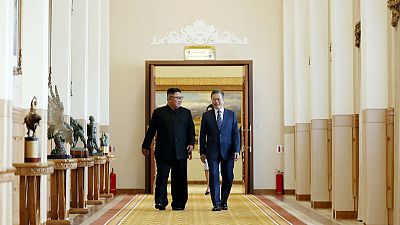 -
By Jane Chung
SEOUL (Reuters) – North Korean leader Kim Jong Un has sent South Korean President Moon Jae-in a pair of white North Korean Pungsan dogs as a gift, the latest sign of a dramatic thaw in relations between the Korean rivals.
Moon and Kim held their third meeting this year in the North Korean capital of Pyongyang in mid-September, when Kim proposed the idea of the canine presents, the South Korean presidential Blue House said in a statement on Sunday.
The dogs passed through the heavily fortified demilitarized zone (DMZ) and the truce village of Panmunjom into South Korea on Thursday.
Kim crossed at the same place to meet Moon for the first time in April this year.
The breed, named after a North Korean county, is known for its loyalty and skills for hunting, even tigers. It is designated as a North Korean "natural monument" animal.
The two will live with South Korea's First Dog, Tori, who became the first shelter dog to take up residence at the South Korean presidential compound.
Moon, who is known to be an animal lover, adopted the black mixed breed Tori in July last year, two months after he took office.
It is not the first time a North Korean leader has sent a pair of Pungsan dogs to a South Korean leader.
In 2000, late North Korean leader Kim Jong Il, father of Kim Jong Un, sent two Pungsan dogs to then-South Korean president Kim Dae-jung when they held the first inter-Korean summit.
(Reporting by Jane Chung; Editing by Robert Birsel)