Motor racing - Hamilton wins in Russia to go 50 points clear
Comments
By Reuters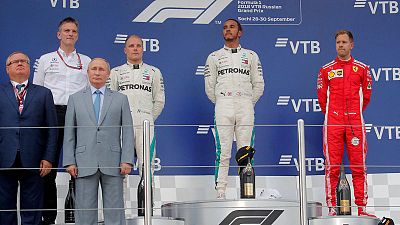 By Alan Baldwin
SOCHI, Russia (Reuters) – Valtteri Bottas did as he was told and moved aside to let Mercedes team mate Lewis Hamilton win the Russian Grand Prix and surge 50 points clear in the Formula One championship on Sunday with five races remaining.
The victory was a landmark 70th for the Briton, whose fifth title now looks only a matter of time and who is 21 wins behind the all-time record of 91 held by seven times champion Michael Schumacher.
Hamilton's closest rival Sebastian Vettel finished third for Ferrari with Bottas, who started from pole position and was told to let Hamilton through after 25 of the 53 laps, securing the Mercedes one-two.
"It doesn't feel great. Naturally, Valtteri has been an incredible team player today," said Hamilton after one of his more controversial wins.
In a race with little real drama, Max Verstappen celebrated his 21st birthday in style by steering his Red Bull from the back to the front, dropping back to fifth after finally pitting with 10 laps to go.
Mercedes remain unbeaten in Russia, Sunday being their fifth win in Sochi since the Olympic Park circuit first appeared on the calendar in 2014. Hamilton has now won eight races this season.
The Briton, who would not have been able to switch places with Bottas had he not pulled off a slick overtake on Vettel after dropping behind at the pitstops, stayed in the car for some time after he parked up at the finish.
He then went over to thank Bottas and commiserate. At the podium ceremonies, with Russian president Vladimir Putin doing the honours, Hamilton manoeuvred the Finn onto the top step alongside him.
"It's actually quite a difficult day," explained the Briton. "He was a real gentleman to let me by. Usually I'd be elated but I can understand how difficult it was for Valtteri."
DIFFICULTDAY
The Finn, without a win this season, had asked the team over the radio, more in hope than expectation, in the closing laps whether the order might change back.
"Is this how we are going to finish the race?" he asked, before the answer came back in the affirmative.
"Valtteri this is Toto. Difficult day for you and a difficult day for us," said team boss Toto Wolff, whose finger had been captured by the world television feed hovering over the 'tactics' button before the order was given.
"Let's discuss it afterwards when we come together and we'll explain things."
Wolff later told reporters he took full responsibility for the decision and would rather be the bad guy in Russia than the idiot, should misfortune strike in coming races, at the end of the season.
Bottas had stopped first in the race, with Vettel following a lap later. Hamilton then came in and returned, to some bemusement, a fraction behind his German rival.
"Guys, how did that happen?" he asked over the radio, before regaining the fourth place on lap 16.
With Verstappen running a long first stint, Bottas was second and Hamilton third with some signs of tyre blistering while Vettel was closing in. Mercedes then decided to take action into their own hands.
Force India also invoked team orders to give Sergio Perez a chance to attack Kevin Magnussen's Haas but later reversed the positions in favour of Esteban Ocon when the Mexican failed to get past the Dane.
Kimi Raikkonen finished fourth for Ferrari, after leading briefly when he stayed out longer before his stop, followed by Verstappen and Red Bull team mate Daniel Ricciardo.
Charles Leclerc, who will be racing for Ferrari next season, was seventh for Sauber and Magnussen eighth, ahead of Ocon and Perez.
Both Toro Rossos spun early on and retired.
(Reporting by Alan Baldwin, editing by Toby Davis)