Tesla shares sink on SEC lawsuit; sources say Musk could settle
Comments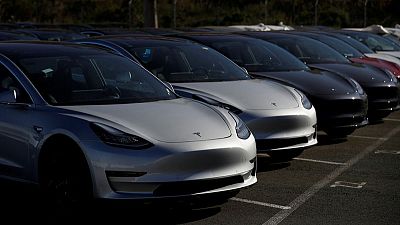 -
By Sonam Rai and Vibhuti Sharma
(Reuters) – Shares of Tesla Inc <TSLA.O> plunged 13 percent on Friday after U.S. securities regulators accused Elon Musk of fraud and sued to have him banned from the leadership of the electric carmaker, although sources said the high-tech billionaire could still reach a settlement.
Musk, Tesla's chairman and chief executive, has been directly involved in almost every detail of its Tesla's product development and technology strategy, and is credited as the driving force behind the loss-making company's ability to raise capital.
The cost of insuring Tesla debt against default rose to its highest price ever on Thursday and the plummeting share price attracted new short sellers, who bet against the stock. Short sellers notched $1.27 billion (973.8 million pounds) Thursday alone in paper profits, and Tesla recently regained the title of most-shorted U.S. stock, according to S3 Partners.
The U.S. Securities and Exchange Commission (SEC) accused Musk on Thursday of tweeting false and misleading information in August about financing for his now-abandoned plan to take the company private, and said it was seeking to remove him as an officer or director. Musk said he had done nothing wrong and the company's board said it supported him.
Musk, 47, walked away at the last minute from a settlement with the SEC that would have required him to give up key leadership roles at the company for two years and pay a nominal fine, according to reports on Friday.
But sources, who requested anonymity because they were not authorized to discuss the matter publicly, told Reuters that while Musk was ready to go to trial he could still settle. They did not discuss possible terms.
CNBC reported that Musk had turned down an SEC deal to give up his role as chairman, while Fox Business News reported that Musk had been offered a temporary ban as CEO.
Musk has hired Stephen Best at Brown Rudnick, who successfully defended internet billionaire Mark Cuban in an insider trading case, according to people familiar with the plans who also asked not to be identified. He also hired former Assistant U.S. Attorney Chris Clark of Latham & Watkins to defend him in the case, the people said.
Tesla did not immediately respond to a request for comment. The SEC declined to comment on the settlement reports.
One person with knowledge of the SEC's thinking said on Friday that the SEC lawsuit or a potential settlement did not preclude further action by the Justice Department.
The Justice Department declined to comment.
In previous fraud cases such as blood-testing firm Theranos, the Justice Department brought criminal charges three months after the SEC announced its settlement with the company's founder Elizabeth Holmes.
The Justice Department's criminal probes typically take longer since the standard of proof is higher than the SEC's civil cases, said legal experts.
"A lot of the time they do work together, but the DOJ's investigation may go on longer. The SEC wouldn't delay its case for the DOJ," Teresa Goody, CEO of law firm Goody Counsel and a former SEC attorney.
UNCERTAINFUTURE
At least five research firms said Musk might have to resign following the SEC lawsuit.
"I think it was a big mistake to turn down the settlement offer," CFRA analyst Garrett Nelson said.
Some analysts said the SEC's action was the beginning of a legal battle with authorities, short-sellers and other investors over Musk's actions that could cost Tesla heavily.
Musk has driven the company to the verge of profitability with a costly ramp-up of production of its Model 3 sedan over the past year.
Electric vehicle news site Electrek reported that Tesla had produced 51,000 Model 3s with a couple of days left in the quarter, hitting its goal of 50,000 to 55,000 Model 3s.
"The bottom line is, what he did was stupid, it was wrong, I don't think he's going to be thrown out," said a large Tesla investor, who asked not to be identified due to sensitivity of the situation.
"My guess is he'll pay a big fine. I wouldn't be surprised if as a settlement to the SEC he drops his chair of the board" role.
Ihor Dusaniwsky, head of research at financial analytics firm S3 Partners, said in an email that he had seen several hundred thousand shares of new short selling in Tesla.
Short interest in Tesla shares totals nearly $10.2 billion, with more than 33.1 million shares sold short, roughly 26 percent of its float, he said.
Shares were last down 13 percent at $267.46 in afternoon trading, wiping about $7 billion off Tesla's market value.
The SEC's lawsuit, filed in Manhattan federal court, caps a tumultuous two months set in motion on Aug. 7 when Musk told his more than 22 million Twitter followers that he might take Tesla private at $420 per share, with "funding secured."
The regulator charged that Musk "knew or was reckless in not knowing" that his tweets were false and misleading.
(Reporting by Munsif Vengattil, Sonam Rai and Vibhuti Sharma in Bengaluru; Michelle Price and Jan Wolfe in Washington; Ross Kerber in Boston; writing by Peter Henderson; editing by Meredith Mazzilli and Tom Brown)
euronews provides breaking news articles from reuters as a service to its readers, but does not edit the articles it publishes. Articles appear on euronews.com for a limited time.