Greece battens downs hatches for "Medicane" cyclone
Comments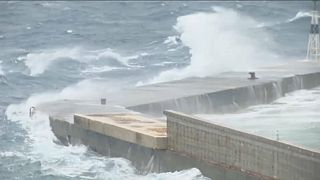 Greece is battening down the hatches ahead of the possible arrival of a cyclone known as a 'Medicane' - or a Mediterranean "Hurricane".
Gale force winds lashed the coast of Rafina – on the southeast of the country. Ferries remained docked in ports as waves swelled. People in Greece have already taken to social media ahead of the cyclones proper landfall.
Power lines have already been cut off in towns to the North of Athens and meteorologists are warning that the full force of the cyclone could hit on Saturday.
A study published in 2011 reveals that these forms of cyclones tend to happen in the region 1-2 times a year but the effects of this subtropical depression could be as far-reaching as Turkey. The nation is also bracing itself for its first in its modern history. Turkish media is reporting that it could hit the country's western coast.
Athens fire department has said it has already received hundreds of phone calls to remove debris and authorities have ordered some school to stay shut.