Trudeau dismisses Trump's NAFTA attack, says Canadians are tough
Comments
By Reuters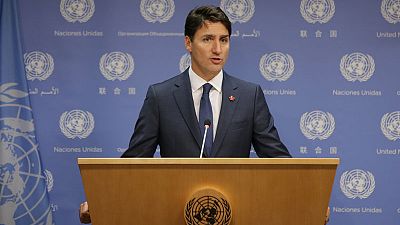 -
OTTAWA (Reuters) – Canada's Prime Minister Justin Trudeau on Thursday dismissed U.S. President Donald Trump's criticism of the slow pace of talks to modernize the North American Free Trade Agreement, saying Canadians were tough negotiators.
Trudeau spoke a day after Trump blasted Canada's negotiating position, said he had rejected the Canadian leader's request for a one-on-one meeting and threatened to impose tariffs on cars imported from Canada.
The two sides are still far apart on key issues in the NAFTA talks. The 1994 deal underpins $1.2 trillion in annual trade between Canada, Mexico and the United States.
"The Americans are finding that the negotiations are tough because Canadians are tough negotiators, as we should be," Trudeau told reporters on the way into a regular weekly cabinet meeting in Ottawa.
"But a good fair deal is still very possible. We won't sign a bad deal for Canadians," he added, declining to answer when asked whether Trump had lied about rejecting a private meeting. Trudeau's office said no such conversation had been requested.
The United States, which has imposed a Sept. 30 deadline for Canada to agree to the text of a new NAFTA, has already concluded a trade deal with Mexico.
(Reporting by David Ljunggren; Editing by Chizu Nomiyama and Paul Simao)