Spanish PM Sanchez says he could compromise on budget, sees no snap election
Comments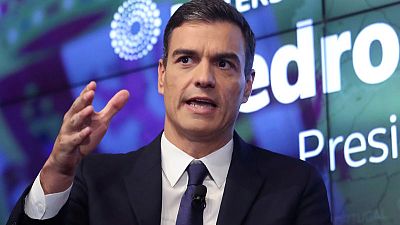 -
By Rodrigo Campos and Mary Milliken
NEWYORK (Reuters) – Spain's Prime Minister Pedro Sanchez said on Thursday he could relinquish his plans for more ambitious spending in order to secure passage of his government's 2019 budget in parliament, an important test for his four-month-old minority government.
The Socialist leader told Reuters he could be forced to work with the former, tighter deficit targets set by the previous conservative government and thereby avoid a budgetary stalemate that could lead to a snap election.
Sanchez's government, which controls only 84 seats in the 350-seat parliament, cannot pass the full budget without the parties which brought him to power in June, when they backed a no-confidence motion against his predecessor Mariano Rajoy.
Sanchez secured an agreement with the European Union to raise the public deficit target to 1.8 percent of gross domestic product, compared with a previous target of 1.3 percent, freeing up money he planned to use on education and social spending in the euro zone's fourth largest economy.
"If we are obliged to present a draft with the former commitments we will do it," Sanchez said in a Newsmaker event moderated by Reuters Editor-in-Chief Stephen Adler.
Asked if the fight over the budget would lead to a new election, Sanchez said "no." But he warned that the two conservative parties that want the tighter budget "will need to explain to the Spaniards why they vote against having much more resources for our education, our public health, and our pension system."
A July vote against his budget plans unleashed the first crisis for his young government, brought to power in June with the tenuous backing of seven parties.
Sanchez is sticking to his position of not bringing forward the next national election due mid-2020.
"Of course politics is always a game of priorities. If you prioritise conflict instead of cooperation … we will go for elections," Sanchez said.
"But if you say let's put first cooperation in order to solve social policies or others I think that we can last until the year 2020. And this is my idea, this is my goal."
PESSIMISTICABOUTVENEZUELA
Sanchez, in New York for his first United Nations General Assembly meetings as head of Spain's government, said he has discussed helping South American countries deal with a wave of refugees from Venezuela fleeing economic collapse and food shortages.
His has opposed the socialist government of Venezuelan President Nicolas Maduro, citing its treatment of opposition parties and political prisoners, and said he did not see a political solution to the crisis.
"I would say I am pessimistic," Sanchez said. "I see that the Maduro regime does not open any window to dialogue with the opposition."
Asked if Venezuela's crisis could be resolved without a change in government, Sanchez said: "I would say, in a very polite manner, I think it's very difficult."
He said he supports the mediation work in Venezuela of his fellow Socialist and former Spanish prime minister, Jose Luis Rodriguez Zapatero, who has come under criticism from the opposition for not being tougher on Maduro.
Sanchez, a strong backer of the European Union, said he was concerned about what he called "turbulence" in transatlantic ties with the United States under U.S. President Donald Trump, who has challenged EU leaders on trade tariffs, climate change, multilateralism and defence spending.
"I think that he's committing a mistake with regard to the European Union," Sanchez said. "I do believe that a stronger Europe also works positively in the interests of the U.S. administration and the U.S. society."
(Reporting by Rodrigo Campos and Mary Milliken, Additional reporting by Belen Carreno, Jesus Aguado and Julien Toyer in Madrid, Editing by Rosalba O'Brien)
euronews provides breaking news articles from reuters as a service to its readers, but does not edit the articles it publishes. Articles appear on euronews.com for a limited time.