China's August industrial profit growth slips to five-month low
Comments
By Reuters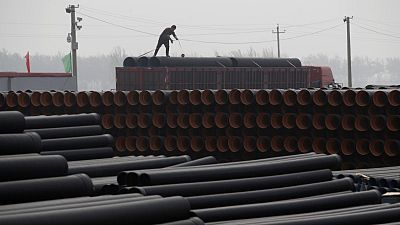 BEIJING (Reuters) – Profit growth for China's industrial firms decelerated to a five-month low in August on shrinking revenues and prices, adding to concerns about demand in the world's second-largest economy amid escalating trade frictions with the United States.
Industrial profits rose 9.2 percent to 519.69 billion yuan in August, softening for a fourth straight month and almost halving from a 16.2 percent gain in July, data from the National Bureau of Statistics (NBS) showed on Thursday.
Analysts from Capital Economics had forecast a 15.5 percent increase for August. The official August growth rate was the slowest since March, when profits grew 3.1 percent.
Last month's slowdown was mainly due to a double whammy of slower revenues and factory prices gains, the statistics bureau said in a statement accompanying the data release. China's producer inflation cooled in August as commodity markets faltered.
Upstream sectors such as mining and metal producers and state-owned firms still had the lion's share of profit gains but their growth softened in August. Profits at China's state-owned industrial firms rose 26.7 percent year-on-year in January-August period, compared to 30.5 percent increase in first seven months.
Commodity-related and component manufacturing sectors are most immediately exposed to the new U.S. tariffs, Moody's said in a report on Tuesday, particularly those related to electronic products, consumer appliances, furniture and vehicle parts.
The United States and China imposed fresh tariffs on each other's goods on Monday as the world's biggest economies showed no signs of backing down from an increasingly bitter trade dispute that is expected to hit global economic growth.
For the first eight months of the year, industrial firms notched up profits of 3.9 trillion yuan, a 16.2 percent increase from the same period last year, lower from 17.1 percent growth in January-July.
The latest round of tit-for-tat tariffs could further hurt China's already slowing economy.
The latest quarterly survey of thousands of Chinese firms by China Beige Book International (CBB) suggested both revenue and profit growth slowed in July-September from the previous quarter and only retailers and commodities companies saw improved margins.
But it added that while China's economy is cooling, it is "not as intensely weak as many believe." Some analysts also caution that producer prices – an important gauge of profitability – could prove more resilient than expected due to domestic and global factors.
However, the survey cautioned there are "alarming" parallels with a sudden slowdown in China in 2015, with companies continuing to borrow heavily even as the economy weakens and before any meaningful U.S. tariffs kicked in.
Policymakers have shifted focus in recent months to growth-boosting strategies, accelerating approvals for infrastructure projects and providing more financing support to the private sector. Taxes and fees are being cut and banks have been told to keep credit lines open to firms hit by the trade dispute.
Chinese industrial firms' liabilities rose 6.6 percent on an annual basis as of end-August, according to the statistics bureau.
(Reporting by Yawen Chen and Ryan Woo; Additional Reporting by Min Zhang and Stella Qiu; Editing by Kim Coghill & Shri Navaratnam)