Trump sees no time frame for North Korea deal, second summit coming
Comments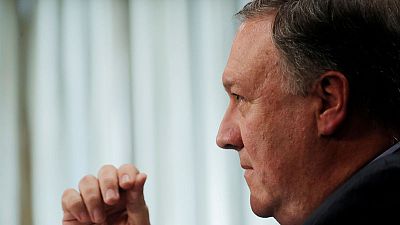 -
By Steve Holland and David Brunnstrom
UNITEDNATIONS (Reuters) – U.S. President Donald Trump said on Wednesday he did not have a time frame for North Korea to denuclearize just as his secretary of state, Mike Pompeo, plans to visit Pyongyang again next month to set up a second summit for Trump and North Korean leader Kim Jong Un.
"I think we're really going to do something that's going to be very important, but we're not playing the time game," Trump told reporters in New York, responding to a question at a news conference. "If it takes two years, three years or five months – doesn't matter."
Trump's comments came after Pompeo had a meeting with North Korea's foreign minister, which the U.S. secretary of state described as very positive. Pompeo will visit Pyongyang again next month to prepare for a second summit.
He wrote on Twitter that his meeting with Ri Yong Ho on the sidelines of the United Nations General Assembly in New York was to discuss the summit and "next steps towards denuclearisation of #NorthKorea."
"Much work remains, but we will continue to move forward," Pompeo said.
His visit to Pyongyang next month will be his fourth this year.
Referring to North Korea by the acronym of its official name, the Democratic People's Republic of Korea, the State Department said the aim of the meeting would be "further progress on the implementation of the commitments from the U.S.-DPRK Singapore summit, including the final, fully verified denuclearisation of the DPRK, and to prepare for a second summit …"
Trump held an unprecedented first summit with Kim in Singapore on June 12 that yielded a broad pledge by Kim to "work toward" denuclearisation of the Korean peninsula.
Kim's commitments and actions, however, have fallen short of Washington's demands for a complete inventory of North Korea's weapons programs and irreversible steps to give up a nuclear arsenal that potentially threatens the United States.
Trump said earlier on Wednesday the United States and North Korea had "a wonderful relationship going" and he would announce the timing and location of his next meeting with Kim in the "very near future."
Pompeo told "CBS This Morning" earlier that U.S. officials were working "to make sure we get the conditions right" for a second summit. He said any future summit could happen in October, but more likely after that.
Trump's remarks on North Korea this year have been dramatically different from those in his speech last year at the U.N. assembly, when he threatened to "totally destroy" the country and mocked Kim as "Rocket Man" on a "suicide mission".
SANCTIONS
In his address to the General Assembly on Tuesday, Trump praised Kim for his courage in taking steps to disarm, but said much work still had to be done and sanctions must remain in place on North Korea until it denuclearises.
On Wednesday, Trump told the U.N. Security Council that many positive things were happening behind the scenes on North Korea, "away from the media."
"So I think you will have some very good news coming from North Korea in the coming months and years."
Trump said Kim had reaffirmed his commitment to complete denuclearisation to him directly in a "very strong letter form."
"I think we will make a deal," he said.
"But, unfortunately, to ensure this progress continues, we must enforce existing U.N. Security Council resolutions until denuclearisation occurs," Trump said, while complaining that some nations were violating U.N. sanctions.
During a subsequent meeting with Japanese Prime Minister Shinzo Abe, Trump reached into his jacket pocket and pulled out a folded piece of paper that he said was an "extraordinary letter" from Kim and said North Korea had "a great future."
"If you go back a year, if you go back certainly to the time I took office, it looked like we were going to war with North Korea. It doesn't look like that any more. It looks like just the opposite. So we're very happy about that," Trump said.
Asked by CBS if Kim had agreed to allow international inspectors into nuclear sites, Pompeo said, "Yes," while adding that verification was important in any nuclear agreement.
"We've talked about this verification from the beginning," he said. "We're not going to buy a pig in a poke. We're going to get this right. We're going to deliver on this commitment (to denuclearize) that Chairman Kim has made to the world."
Pompeo said after his last visit to Pyongyang in July that progress had been made, only for North Korea within hours to denounce him for making "gangster-like demands."
North Korea had made international inspection of its main nuclear site conditional on "corresponding measures."
(Additional reporting by Michelle Nichols, Lesley Wroughton, Jeff Mason, and Susan Heavey; editing by Jonathan Oatis)
euronews provides breaking news articles from reuters as a service to its readers, but does not edit the articles it publishes. Articles appear on euronews.com for a limited time.