Swiss-EU ties at crossroads over stalled treaty talks
Comments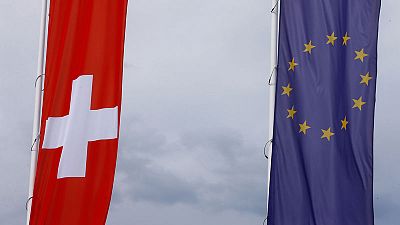 -
By Michael Shields
ZURICH (Reuters) – Switzerland and the European Union have been negotiating the terms of a treaty that would cement ties between the neutral country and its biggest trading partner.
WHATWOULD A TREATY DO?
The European Commission has been pushing for a decade for a treaty that would sit atop an existing patchwork of 120 sectoral accords and have the Swiss routinely adopt changes to rules governing the single market of 500 million people. It would also provide a more effective platform to resolve disputes, providing more legal certainty and strengthening commercial ties.
WHYNOW?
Negotiations have dragged on for five years as the sides wrangle over just how to settle disputes, state aid rules and Swiss regulations for EU workers on temporary cross-border assignments. The last point could be a dealbreaker — Swiss labour unions and small business refuse to budge on rules designed to protect high Swiss wages from foreign competition. The European Commission and the Swiss government have said they want a deal by year's end, before elections in both Switzerland and the EU next year shuffle the political deck and potentially intensify the rhetoric.
WHATARETHECHANCES?
After European Commission President Jean-Claude Juncker last year proposed letting joint arbitration panels rather than the European Court of Justice handle some disputes, talks were making good progress. The offer helped defuse arguments from the right-wing and anti-EU Swiss People's Party, the largest in parliament, that foreign judges should not be allowed to dictate to the sovereign Swiss. But negotiations ran aground again when Switzerland's normally pro-Europe centre left balked at adapting the labour rules, a demand from Brussels. With both the left and right opposed to a deal, the treaty would hardly have a chance of surviving a referendum that would be likely under the Swiss system of direct democracy.
WHAT IF TREATYTALKSFAIL?
The 120 sectoral accords would stay in effect, but bilateral relations would enter a deep freeze. The Commission has threatened not to extend beyond this year recognition of Swiss stock exchange rules that allow cross-border trading, which could touch off tit-for-tat escalation. Failure to strike a deal means no increase in Swiss access to the single market, dashing hopes for a new electricity union. It could also endanger unfettered EU market access for Swiss makers of products such as medical devices, should agreements on mutual recognition of industrial standards lapse.
WHATDOESTHISHAVE TO DO WITHBREXIT?
Technically, nothing, but the separate negotiations exert gravity on each other. Unlike Britain and its messy EU divorce, Switzerland is dead set on staying anchored in the single market and allowing the free movement of citizens. But Juncker has warned against letting the Swiss talks drag on into the crunch phase of Brexit negotiations, and Swiss Foreign Minister Ignazio Cassis has cited the difficulty of striking deals when EU counterparts are loath to make any concessions that Brexiteers may seize on.
euronews provides breaking news articles from reuters as a service to its readers, but does not edit the articles it publishes. Articles appear on euronews.com for a limited time.