Ryder Cup convert McIlroy ready for event he once dismissed
Comments
By Reuters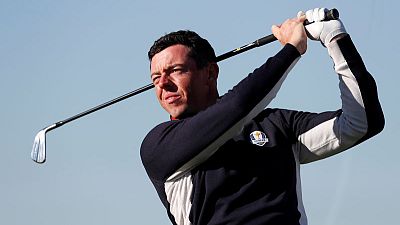 -
By Mitch Phillips
PARIS (Reuters) – Rory McIlroy has come a long way from dismissing the Ryder Cup as "an exhibition event" of little importance to becoming fully established as one of the European team leaders who cannot wait to soak up the experience for a fifth time.
McIlroy was a 20-year-old when he derided the biennial event as something not among his goals, but the four-time major winner soon started to understand its special place in the calendar the following year on his debut at Celtic Manor.
"Going into my first Ryder Cup, I didn't know what all the fuss was about. I still thought it was this team event that really doesn't matter in the big scheme of things," the 29-year-old told a news conference at Le Golf National on Wednesday.
"I was more concerned about individual titles and all that. Once I got on to that first tee on Friday morning, I thought, 'oh, this is a little different than I expected'.
"It doesn't seem that it's been that long and now this is going to be my fifth Ryder Cup," added the Northern Irishman, who last week said that winning majors had provided his proudest moments but Ryder Cups had been his best golfing experiences.
"But they have all been wonderful experiences for different reasons, and I'm sure this time will be no different.
"I've been excited for this for basically since the last day in Hazeltine, whenever we weren't the ones spraying champagne for a change," the world number six said.
WASTEDENERGY
That contest two years ago featured one of the all-time great singles matches as McIlory took on this year's U.S. Masters champion Patrick Reed in a high-octane, high-volume Sunday showdown.
Sent out first by their captains, the talismen traded shots and celebrations through a terrific match in front of baying galleries, before Reed eventually triumphed on the final hole.
Both have since spoken about how much they enjoyed that battle but McIlroy said on Wednesday that having looked back on how high he was on adrenalin, he had learned an important lesson.
"I could play it for nine holes, and then it suddenly hit me," he said. "The level sort of declined after that and reached its crescendo on the eighth green, and the last 10 holes weren't quite as good. I hit a wall on that back nine and it cost me.
"I look back as those videos, it wasn't just Sunday. It was Friday and Saturday. I'm surprised I had a voice left at the end of the week. It looked tiring to have to play golf like that for three days.
"I learnt a lot from that and learnt that it's good to get excited and to have that, but at the same time, if I need to play a late match on Sunday or whatever it is, I want to have all my energy in reserve so I can give everything for 18 holes."
(Reporting by Mitch Phillips; Editing by John O'Brien)