Hammond brings forward budget plan to Oct 29
Comments
By Reuters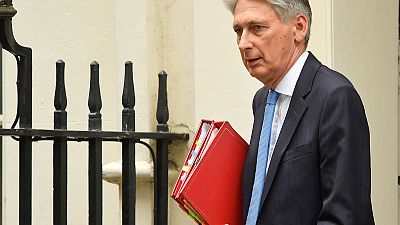 -
LONDON (Reuters) – British Chancellor Philip Hammond said on Wednesday he will deliver his autumn budget statement on Oct. 29, earlier than usual as the government prepares for a crucial Brexit summit in November.
"I'll set out how our balanced approach is getting debt falling while supporting our vital public services, and how we are building a stronger, more prosperous economy," Hammond said in a tweet.
He is under pressure from many members of parliament in his Conservative Party to ease his grip on public spending to counter the frustration of many voters with nearly a decade of spending cuts to many areas of public services.
Prime Minister Theresa May has already promised a big increase in the budget for the national health service.
Hammond has prioritised cutting public debt as a share of Britain's economic output, saying it could prevent the government from countering any future economic downturn with fresh stimulus spending.
British finance ministers typically deliver their autumn statements on the budget in November.
EU leaders are due to hold a special summer on Nov. 17-18 to thrash out the terms of Britain's exit from the bloc if sufficient progress in negotiations has been made by then.
(Reporting by William Schomberg; Editing by Alistair Smout)