ECB's Praet sees mounting growth risks but not too worried
Comments
By Reuters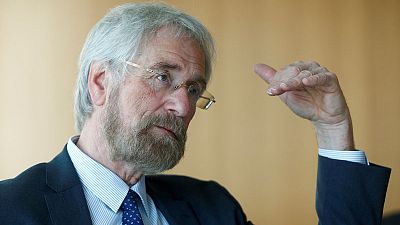 -
By Balazs Koranyi
FRANKFURT (Reuters) – Risks to euro zone growth are mounting but have yet to impact actual growth indicators, European Central Bank chief economist Peter Praet said, playing down fears about an excessive slowdown in the currency bloc.
But Praet, an architect of the ECB's crisis-era stimulus policies, also said that interest rates will remain depressed for years as weak inflation will not let the bank normalise policy quicker, even as the bloc enjoys its best growth run since its debt crisis.
With much of its firepower exhausted, the ECB has been removing stimulus in gentle increments and plans to end its lavish bond purchases in December, hoping it has done enough to keep the recovery going without that extra support.
"Risks are mounting, I have to admit that," Praet said in a Reuters television interview. "But so far we haven't seen any impact on real data… I'm not excessively worried."
In the two weeks since the ECB's last meeting, the U.S. announced additional tariffs on China, the risk of a hard Brexit increased and Italy continued to debate whether to test EU budget deficit rules.
But Praet dismissed the political noise out of Rome.
"In Italy, we have a very big contrast between the communication, words, and the deeds," Praet said. "The key information will be on the budget, so we have to see those figures. The pension reform is quite an important element in the picture."
Italian yields have risen in recent months as the debate over spending has unnerved investors, raising concern that an Italian selloff could spread to countries on the bloc's periphery with the potential to ignite a new crisis.
But given these risks, Praet also dismissed calls by some policymakers to raise interest rates quicker, arguing that even a tepid rise in inflation was conditional on the ECB's continued support.
"Our base scenario, where inflation is going to converge towards 2 percent, is conditional on very easy financial conditions in general," Praet said.
The ECB has kept interest rates in negative territory since 2014 and said it plans to keep them steady at least through next summer.
Markets now see the ECB's first hike since 2011 sometime around next October, followed by a very slow pace of increases, a projection Praet said he was comfortable with.
"The market curve that we see today, the interest rate curve, is fully coherent with the objective we have," Praet added. "…Which means indeed what you say that you're going to have low rates for some period of time."
Praet also played down risks stemming from rising U.S. interest rates, arguing that divergence between ECB and Federal Reserve policy had happened before and reflected the very different economic conditions on the two sides of the Atlantic.
(Reporting by Balazs Koranyi; editing by John Stonestreet)