Cuba's president tells U.N. will continue Castro brothers' project
Comments
By Reuters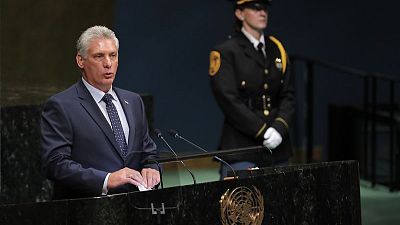 -
UNITEDNATIONS (Reuters) – Cuba's new president, Miguel Diaz-Canel, born after its 1959 revolution, said at the United Nations General Assembly on Wednesday his mandate represents a generational handover but he will continue the work started by the Castro brothers.
The 58-year-old's first trip to the United Nations and the United States has also marked his debut on the world stage since taking office from his mentor Raul Castro, 87, in April. Castro and his late brother Fidel Castro had run the country for nearly 60 years.
"The generational change in our government should not deceive the enemies of the revolution," Diaz-Canel said. "We are continuity, not rupture."
He made it clear the message was intended in particular for the administration of U.S. President Donald Trump, which has tightened the decades-old U.S. trade embargo on the Caribbean island nation over the last year-and-a-half.
"Despite the blockade … and the actions carried out by the United States to impose a regime change, the Cuban revolution is here, alive and vigorous, faithful to its principles", he said.
Just a day before at the General Assembly, Trump lambasted "socialism's thirst for power (that) leads to expansion, incursion, and oppression" and said Cuba was sponsoring the "socialist Maduro regime" in Venezuela.
Diaz-Canel, meanwhile joined other world leaders in decrying Trump's unilateralism. However, he said Cuba remained open to dialogue as long as it was in a position of equals.
"The use of threat and force, unilateralism, pressures, reprisals and sanctions characterize ever more frequently the behaviour and rhetoric of the U.S. government," he said.
Earlier in the week, Diaz-Canel held bilateral meetings for the first time as president with leftist allies like Salvadoran President Salvador Sanchez Ceren as well as right-wing leaders like Argentine President Mauricio Macri.
He has also met with representatives of U.S. technology companies like Google that are keen to explore investment opportunities in Cuba and U.S. lawmakers like Republican Congresswoman Kathy Castor who believe better relations between the old Cold War foes are in the interest of both countries.
The announcement on Wednesday of the creation of the first U.S.-Cuban biotech joint venture to bring Cuban-developed cancer treatments to U.S. patients underscored their point.
"Today's announcement is an unmistakable example of the good that can come from U.S.-Cuba engagement," the Center for Democracy in the Americas said. "Our two countries stand to gain immeasurably from closer ties, be it in the field of biotech, education, sports, commerce, or the arts."
(Reporting by Dave Graham in New York; Additional Reporting by Nelson Acosta and Sarah Marsh in Havana; Editing by Jonathan Oatis)