Brexit and Brazil to test Orcel's skills at Santander, M&A in focus
Comments
By Reuters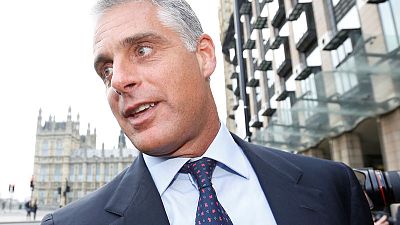 -
By Jesús Aguado
MADRID (Reuters) – Britain's looming exit from the EU and political uncertainty in Brazil will test the management skills of Santander's <SAN.MC> new chief executive Andrea Orcel while fellow bankers say his appointment is a sign the bank could go on an acquisition spree.
Orcel, who had headed the investment banking business of Switzerland's UBS Group <UBSG.S> since 2014, was named on Tuesday as the new CEO of the euro zone's biggest lender.
The management restructuring comes at a sensitive time for the Spanish bank with two of its three main markets – Britain and Brazil – in focus and with its shares down 20 percent in the last year.
A new strategic plan that Banco Santander had planned to unveil by the end of this year has been delayed until next February because Santander said it needed more time due to the uncertainty stemming from Brexit and next month's presidential election in Brazil.
The chairman of Banco Santander, Ana Botin, said on Wednesday Orcel's appointment did not signal a strategy change, and he would focus on growing Santander's business organically.
"There has been speculation that he comes to overhaul our strategy. But we are already clear on what our strategy is. We will remain the bank we are, a commercial bank operating in 10 countries," Botin told journalists at an event in Madrid.
The bank, which made more than half a dozen high-profile deals in the 1990s and 2000s to grow from a regional Spanish lender to a global bank, is now putting the emphasis on better service and customer loyalty.
While Orcel is mostly known for his investment banking skills, which he used to advise Santander at Bank of America Merrill Lynch and UBS for two decades, the Italian also has a strong track record at the top of a global bank.
"Orcel is known for being a tough and an effective manager and was credited for turning UBS around. He is seen as a very aggressive manager and very demanding of his own employees," a London-based investment banker close to Orcel said.
A banker close to Orcel said he had almost become the "unofficial CEO" of UBS but his working relationship with its current CEO Sergio Ermotti had become difficult.
M&A?
Other bankers believe he will guide Santander towards a new phase of acquisitions.
"If you bring in an investment banker such as Orcel you don't want to be wasting his advising skills," a top Madrid banker said on condition of anonymity.
"Prior to his appointment, the bank counted on him as an external adviser, now he will be advising from within the bank," the banker said.
Orcel, who had been a member of UBS's executive board since 2012, advised Santander on the deals it made in Britain, including the acquisition of Abbey National and Alliance & Leicester.
He was also behind the three-way purchase of ABN Amro by RBS, Fortis and Banco Santander and worked on Santander's acquisition of Sovereign in the United States, where the Federal Reserve recently lifted a ban on acquisitions from next year, paving the way for a more effective capital allocation.
The banker close to Orcel said that he could even try to gatecrash Unicredit's <CRDI.MI> attempted merger with Societe Generale <SOGN.PA> and look into a potential acquisition of the Italian bank.
(Reporting by Jesus Aguado, additional reporting by Pamela Barbaglia and Andrés González; Editing by Julien Toyer and Adrian Croft)