Bosnian Serb leader drops secessionist rhetoric ahead of vote
Comments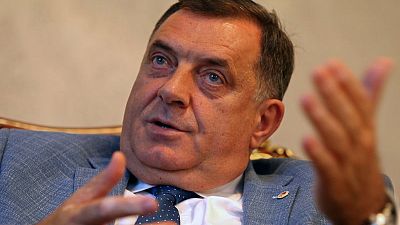 -
By Daria Sito-Sucic
BANJALUKA, Bosnia (Reuters) – Bosnian Serb leader Milorad Dodik, who has long called for the secession of his region from Bosnia, appears to have dramatically toned down that demand as the country approaches elections.
The Balkan country holds parliamentary and presidential polls on Oct. 7 which many analysts see as a turning point that will decide if Bosnia will progress towards the EU and NATO integrations or remain stuck in ethnic rivalries.
Dodik, who presides over Bosnia's autonomous Serb Republic, is running for the Serb seat in the tripartite inter-ethnic presidency of Bosnia – a state he has in the past repeatedly called "impossible" and destined for dissolution.
But in an interview with Reuters on Wednesday, the nationalist leader took a much more nuanced line, and defended the 1995 U.S.-brokered peace deal that ended Bosnia's war and established its current constitution.
"I am not against a possible Bosnia-Herzegovina, but not for one which erodes the Dayton peace agreement," Dodik said.
Under the Dayton deal, Bosnia was split into two highly autonomous regions, the Serb Republic and the Federation shared by Croats and Muslim Bosniaks, linked via a weak central government. An international envoy has been overseeing the country's peace.
"I am against Bosnia-Herzegovina which is run by foreigners who have made an impossible creation … in which we don't have an internal dialogue," Dodik said, adding the Dayton accords had been invalidated over the years by the interventions of international overseers and judges.
Asked directly if he would continue to push for the secession of the Serb Republic and its integration with Serbia, the theme that has prevailed in his campaigning this month, Dodik said:
"I will respect the Dayton peace agreement and I will respect the constitution, I am not ready to act against Dayton and against the constitution."
Under the constitution, which is an integral part of the peace accords, neither of Bosnia's two regions has the right to secede.
NO TO NATO
Earlier this month Dodik told Serbian state TV: "The second term of U.S. President Donald Trump will represent a chance for the reintegration of Republika Srpska (Bosnia's Serb Republic) with Serbia or its greater independence."
The sudden change in rhetoric comes following the visit to Bosnia last week of Russia's Foreign Minister Segei Lavrov, who said there was no alternative to the Dayton agreement. Dodik has repeatedly said he favours closer ties with Russia than with the West.
If elected to the presidency which decides the country's foreign policy, Dodik said he would continue to support Bosnia's bid to join the European Union but not the Western military alliance.
"I am against Bosnia's accession into NATO," he said, noting that NATO warplanes had bombed Bosnian Serb positions and Serbia itself during the Balkan wars of the 1990s.
Dodik said he was not optimistic that Bosnia could join the EU soon.
The Bosnian Serb leader has recently intensified contacts with rightist leaders across Europe, and said he would talk to anyone who was legitimately elected. He said he would like to meet U.S. President Donald Trump's former strategist Steve Bannon.
"I would ask him if Trump will win the next term," he said. "He should know."
(Reporting by Daria Sito-Sucic; Editing by Andrew Roche)
euronews provides breaking news articles from reuters as a service to its readers, but does not edit the articles it publishes. Articles appear on euronews.com for a limited time.