Trump calls allegations against his high court nominee a 'con game'
Comments
By Reuters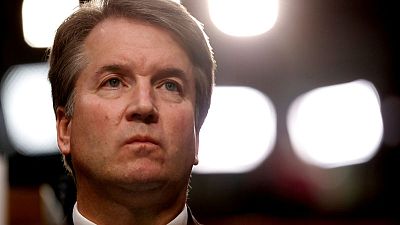 -
By Richard Cowan and Lawrence Hurley
WASHINGTON (Reuters) – President Donald Trump, fighting to shore up his nomination of Brett Kavanaugh to the U.S. Supreme Court in a divided Senate, on Tuesday called sexual misconduct allegations against the judge "a con game being played by the Democrats."
Trump's escalation in his rhetoric defending Kavanaugh came as the Republican-led Senate Judiciary Committee announced the hiring of a woman lawyer who is "an expert sex crimes prosecutor" to question one of the nominee's accusers, Christine Blasey Ford, at a high-stakes hearing scheduled on Thursday.
The committee also scheduled a vote on Kavanaugh's nomination for Friday at 9:30 a.m. (1330 GMT). Senior Senate Republicans said a vote in the full Senate could happen as early as next Tuesday.
In a break from convention, the outside lawyer, whose name was not released, will question Ford and Kavanaugh on behalf of the committee's Republican senators, 11 white men. Typically, senators do the questioning themselves.
Senate Republicans have chosen Rachel Mitchell, a sex crimes prosecutor in Maricopa County, Arizona, to conduct the questioning, the Wall Street Journal reported, citing an unnamed Republican aide.
The move to bring in an outside attorney brought a rebuke from Senator Kamala Harris, a Democratic member of the Judiciary Committee.
"By hiring a private attorney to cross-examine Dr. Blasey Ford, Republicans are trying to intimidate her and avoid being held accountable by voters," Harris said in a Twitter posting.
Senate confirmation of Kavanaugh, a conservative federal appeals court judge chosen by Trump for a lifetime post on the high court, has been imperiled by the decades-old allegations by Ford and another woman, Deborah Ramirez.
"We're going to be moving forward," Senate Majority Leader Mitch McConnell told reporters. "I'm confident we're going to win, confident that he'll be confirmed in the very near future."
Ford, a university professor in California, has accused Kavanaugh of sexually assaulting her in 1982 when both were high school students in Maryland. Ramirez accused Kavanaugh in an article published on Sunday in the New Yorker magazine of exposing himself to her at a drunken dormitory party during the 1983-84 academic year at Yale University.
Kavanaugh has denied both allegations.
Trump said Ford's allegation was 36 years old "and nobody ever heard about it."
Of Ramirez's allegation, Trump said: "And now a new charge comes up. And she says: 'Well it might not be him.' And there were gaps. And she said she was totally inebriated, and she was all messed up, and she doesn't know it was him, but it might have been him."
"Oh, gee, let's not make him a Supreme Court judge because of that? This is a con game being played by the Democrats," Trump added.
Asked whether Ramirez should also be allowed to testify, Trump said: "The second accuser has nothing."
In response to Trump's comments, Ramirez's attorney John Clune told CNN that "politicians are going to say what they want to say but that doesn't mean what Debbie disclosed is not true."
The Kavanaugh confirmation fight comes just weeks before Nov. 6 congressional elections in which Democrats are trying to take control of Congress from Trump's fellow Republicans, against a backdrop of the #MeToo movement fighting sexual harassment and assault.
Kavanaugh's confirmation would firm up conservative control of the Supreme Court and advance Trump's goal of moving the high court and the broader federal judiciary to the right.
Kavanaugh and his Republican allies have framed the allegations as part of a "smear campaign" by Democrats who have opposed his nomination from the beginning.
'A DIFFERENTDECISION'
Republicans hold a slim 51-49 Senate majority, meaning Kavanaugh's confirmation prospects may hinge on the votes of a handful of moderate Republican senators who have not yet announced their intentions, They include Senators Lisa Murkowski, Susan Collins and Jeff Flake.
Comments by Murkowski on Tuesday after she met with McConnell could be an ominous sign for Kavanaugh. Murkowski told reporters: "We have kind of moved beyond the qualifications of the nominee, and it has become more about whether or not women who have been subject to any form of assault, violence, intimidation are to (be) believed. That's a different decision than 'is Judge Kavanaugh qualified?'"
McConnell said the outside lawyer would question Ford "in a respectful and professional way." The panel's Democratic senators, four women and six men, were expected to question Ford and Kavanaugh but those details were still not final, Senator Dick Durbin said.
Ford's legal team on Monday had objected to the possibility Republicans would use an outside lawyer to question her.
Ford, a psychology professor at Palo Alto University in California, said in an interview published in the Washington Post last week that Kavanaugh attacked her and tried to remove her clothing while he was drunk at a party when he was 17 years old and she was 15.
In an interview with Fox News aired on Monday night, Kavanaugh said he "never sexually assaulted anyone," had "always treated women with dignity and respect" and "did not have sexual intercourse or anything close to sexual intercourse in high school or for many years thereafter." Regarding alcohol, he said he never drank so much that he could not remember what happened the night before.
"I think all of us have probably done things we look back on in high school and regret or cringe a bit, but that's not what we're talking about. We're talking about an allegation of sexual assault. I've never sexually assaulted anyone," Kavanaugh said in the interview, sitting alongside his wife.
"I'm a good person," Kavanaugh added.
(Reporting by Richard Cowan and Lawrence Hurley; Additional reporting by David Morgan, Amanda Becker, David Alexander, Jeff Mason and Arshad Mohammed; Editing by Will Dunham and Peter Cooney)