Tuesday rounds offer clue to American Ryder Cup partnerships
Comments
By Reuters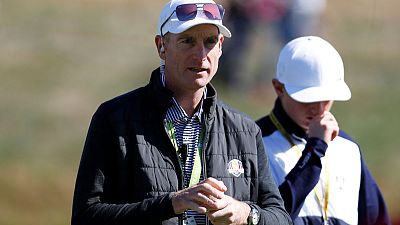 -
PARIS (Reuters) – Jim Furyk has a "really good idea" of the pairings he will send out on the first day of the Ryder Cup, the United States captain said on Tuesday.
Furyk offered a clue when he sent out veterans Tiger Woods and Phil Mickelson with Masters champion Patrick Reed and Ryder Cup rookie Bryson DeChambeau.
Only half of the American team had ever played Le Golf National, so Furyk made sure each group had at least one player with previous experience on the course.
He sent out Jordan Spieth, Justin Thomas, Rickie Fowler and Dustin Johnson together, which perhaps raises the question of whether the previous successful partnership of Reed and Spieth will be continued.
The final foursomes comprised Brooks Koepka, Webb Simpson, Tony Finau and Bubba Watson.
"I think coming in here we both were going to have a plan of exactly what we wanted to try to do," Furyk said, referring also to his European counterpart Thomas Bjorn.
"There's always going to be a reaction what you're seeing on the golf course, what you're feeling, options to branch off of, but I've got a really good idea of what I'd like to do for day one.
"Maybe not quite as exact on day two, but have some options to branch off and work some different pairings. I still want to get some reaction from the players the next couple of nights."
The Ryder Cup format starts with four foursomes (alternate shot) matches on Friday morning, followed by four ball (better ball) matches in the afternoon.
UNFAMILIARCOURSE
Furyk said Tuesday's practise rounds were particularly important for the players unfamiliar with the course.
He said the course setup generally placed a premium on accuracy rather than distance, and that drivers were only needed for a handful of tee shots.
"I've got six guys that have seen the course, six that haven't," he said.
"They are mixed up today where each group has got someone that's played the golf course that can show the others around a little.
"Europe had the opportunity to set the golf course up, so we're trying to figure out what they have in store for us this week.
"I really want them to learn the golf course and get an idea what they can do off each tee and where the least narrow parts are of these fairways. There's not a lot of wide parts out there.
"The better iron players, the better putters, the better thinkers are going to have an advantage around here."
The American side, notwithstanding half the team's lack of familiarity with the course, is leaving little to chance.
They have even employed an analytics firm to provide real time analysis of how guys are performing.
But the captain will have to mix that analysis with good old-fashioned leadership to get the best out of every player.
"You treat everyone the same because they are part of the team, but you have to communicate in a different fashion, and great coaches are able to do that, and that's one of the tasks that I have this week," Furyk added.
(Reporting by Andrew Both in Cary, North Carolina; Editing by Christian Radnedge)