Pro-Europe Swiss minister to quit amid tense talks with EU
Comments
By Reuters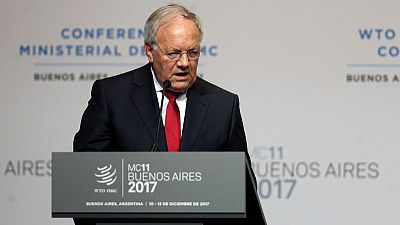 -
ZURICH (Reuters) – A longtime Swiss politician and backer of strong ties to the European Union announced on Tuesday he will resign from government, adding uncertainty over unresolved talks on relations between Switzerland and its largest trading partner.
Economy Minister Johann Schneider-Ammann, 66, confirmed his decision to leave the seven-member government effective Dec. 31 in a letter to parliament in which he describes Switzerland as "a little paradise".
Although his exit from Switzerland's compromise-minded executive branch hardly sets off global shockwaves — he had hinted for months it was coming — it does spell the departure of a reliably pro-business, pro-Europe member just as Switzerland is embroiled in tense talks over renewing bilateral ties with the bloc.
Both the centre-left and the far right oppose a new treaty that Brussels wants to cement ties, so there are no guarantees of a successful deal. Some in Switzerland fear failure could mean new barriers to trade for exporters.
The cabinet is due to spell out its strategy on Friday.
Schneider-Ammann this year failed to bring Swiss unions to the bargaining table, ending hopes of a possible compromise over measures that protect high-wage Switzerland from undercutting by European companies eager to work across the border.
Schneider-Ammann's exit will set off jockeying within his Liberal Democratic Party over who will replace him. Candidates being talked about include party leader Petra Goessi.
Although Schneider-Ammann had a reputation for a no-frills approach suited to leading his family's business that makes asphalt and concrete plants as well as road pavers, he tried during his tenure to lighten things up, not always successfully.
While serving as Swiss president in 2016 he gave a stone-faced speech extolling the medical benefits of laughter where he purposely did not smile once. Recordings went viral, prompting one commentator to say Schneider-Ammann was "about as funny as a funeral director".
(Reporting by John Miller, editing by Ed Osmond)