Outrage over Church's handling of sexual abuse scandals justified, pope says
Comments
By Reuters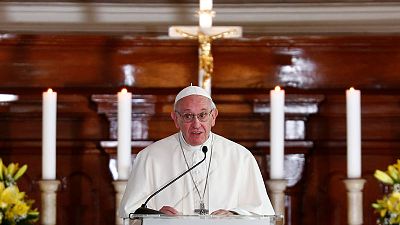 -
By Andrius Sytas and Philip Pullella
TALLINN (Reuters) – Pope Francis said on Tuesday that young people around the world were right to feel outrage at the Roman Catholic Church's handling of its sexual abuse scandals as it grapples with a wave of new cases in countries including Chile and Germany.
Francis, who was wrapping up a four-day trip to the Baltics, has come under fire from victims groups and other members of the Church who say he has not done enough to make bishops accountable for mishandling or covering up abuse cases.
"They are outraged when they do not see clear condemnations of sexual and economic scandals," he told about 1,000 young people gathered in a Lutheran church in the Estonian capital Tallinn.
He spoke hours before the Catholic Church in Germany was due to present a report on its sexual abuse record. Its findings were leaked to German magazine Der Spiegel earlier this month and showed that nearly 1,700 of its clerics and priests had sexually abused 3,677 minors over a 70-year period ending in 2014.
A similar study in the U.S. state of Pennsylvania shook the American Catholic Church in August and last week the number of Chilean bishops who have resigned over a recent sex abuse scandal rose to seven.
Francis wrote an unprecedented letter to all Catholics last month, asking each one to help root out "this culture of death" and last year said the Catholic Church had "arrived late" in dealing with sexual abuse of children by priests.
The Church has also suffered a series of fraud scandals. Francis has made cleaning up the Vatican's murky finances a priority since his election in 2013. A report in April by the Holy See's Financial Intelligence Authority showed that reforms designed to end decades of misconduct were now well-rooted.
Estonia, the last stop of the pope's three-nation tour, has only about 4,500 Catholics, or about 0.4 percent of the population of 1.3 million, according to a 2011 census. A majority said they have no religious identification.
Francis returns to Rome on Tuesday night.
(Reporting By Philip Pullella; Editing by Raissa Kasolowsky)