Thomas Cook warns on profit as hot summer hits demand
Comments
By Reuters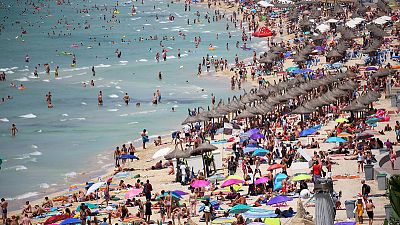 -
By Sarah Young
LONDON (Reuters) – Holiday company Thomas Cook <TCG.L> cut its 2018 profit forecast, blaming a heatwave in northern Europe for more discounting and tougher competition in the most profitable later part of the summer season, sending its shares plunging.
The stock lost 22 percent of its value by 0745 GMT on Monday after it said profit would be 13 percent lower than expected, and as the company warned that poor demand in the latter part of its financial year was spilling over into next year.
In a separate statement, Thomas Cook also said it would replace its chief financial officer.
Thomas Cook makes all its profit in the summer when its customers in northern Europe, including Britain, Germany and Scandinavia go on holiday, mainly to warmer destinations in southern Europe such as Spain, Turkey and Greece.
But what the company described as "unprecedented months of hot weather" reduced demand for late bookings, adding to pressure after it had already warned in July that profit would be at the lower end of expectations.
Its bigger rival TUI Group <TUIT.L> stuck to its forecasts in August but said that the heatwave would prevent it from beating them. It will publish a trading statement on Thursday.
Thomas Cook had been unable to achieve the margins it needed, Chief Executive Peter Fankhauser told investors.
"We've seen a spillover of the hot weather as well into 2019 in the winter so we have some weakness in winter trading," he said.
"A downgrade of this size in 2018 is going to have some impact on 2019."
Thomas Cook said it would provide further details on 2019 guidance in November.
For the 12 months to Sept. 30 2018, Thomas Cook estimated that underlying operating profit (EBIT) would come in at around 280 million pounds, below a previous 323 million pound to 355 million range, in a surprise statement published a day earlier than expected.
Thomas Cook's share price has lost half its value since the beginning of the year, underperforming Britain's midcap index <.FTMC> which is down 0.5 percent in the period.
In a separate statement, Thomas Cook said its chief financial officer Bill Scott would leave the company on Nov. 30, and be replaced on an interim basis by Sten Daugaard, a board member of Thomas Cook's German business.
A search for a permanent successor would be started immediately, the company added.
Thomas Cook had to deal with negative headlines in August when it had to move 300 customers from a hotel in Egypt following the death of two holidaymakers. It has put a compensation package together for the guests and has since said it found a high level of e-coli and staphylococcus bacteria at the hotel.
The company said the profit warning on Monday was not connected to the incident in Egypt.
(Reporting by Sarah Young; Editing by Paul Sandle/Keith Weir)