Chile's government announces investment for indigenous region
Comments
By Reuters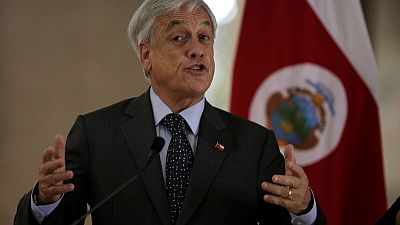 -
SANTIAGO (Reuters) – Chilean President Sebastian Pinera on Monday announced a plan worth $24 million (18.3 million pounds) aimed at ending a lengthy conflict between the state and the country's indigenous population in the south.
The investment joins a list of past efforts to resolve the Mapuche conflict that mainly stems from a dispute over ancestral lands. Pinera's centre-right government has promised to prioritise improving relations with the Mapuche.
The programme aims to increase indigenous representation in the government and accelerate the creation of a ministry of indigenous people. Housing subsidies, infrastructure improvements and a dozen new hospitals for the Araucania region are also part of the plan, according to government materials.
"It is not the final answer, it is a proposal that we hope can be analysed and enriched by all of civil society," Pinera said in broadcast comments as he unveiled the plan.
Around 600,000 Mapuche live in Chile, many in the forested, hilly provinces of Araucania and Bio Bio, roughly 400 miles (640 km) south of Santiago. The Mapuche accuse the state and private companies of taking their ancestral land, draining its natural resources, and using undue violence against them. Their communities are among the poorest in Chile.
In recent years, acts of arson against forestry companies and other industries, often attributed to some disgruntled Mapuche groups, have increased in the region.
(Reporting by Fabian Cambero; Writing by Cassandra Garrison; Editing by Alistair Bell)