Golf - Rose, McIlroy looking to rain on Tiger's Tour Championship parade
Comments
By Reuters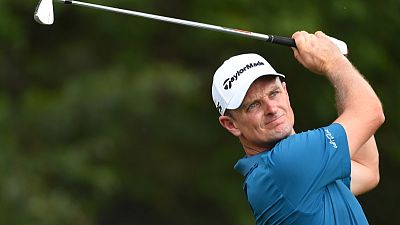 -
(Reuters) – Justin Rose knows the overwhelming majority of fans at the Tour Championship on Sunday will be cheering for Tiger Woods, so it might be a blessing that he will not be paired with the American in the final group.
World number one Rose and Rory McIlroy will both start the final round at East Lake in Atlanta three strokes behind Woods, who is in prime position to end a five-year drought since his 79th PGA Tour victory.
Rose played with Woods on Saturday but because McIlroy finished his third round before the Englishman, he gets to accompany the 14-times major champion in the final pairing on Sunday.
"It was crazy out there for sure, but it's fun," Rose said of playing with Woods.
"It's good to see him exciting the people. I think people maybe didn't realise they missed Tiger until now he's back.
"Now people really enjoy watching him play. And that's why everyone is rooting for him tomorrow absolutely, except maybe for the other guys on the leaderboard."
Rose will be playing not only for the victory but also the FedExCup, which is worth $10 million to the winner of the season-long PGA Tour points race.
Currently ranked second behind Bryson DeChambeau, Rose could probably secure the Cup with a runner-up finish on Sunday.
For all their achievements, 2013 U.S. Open champion Rose and four-times major winner McIlroy know that beating Woods would be a career highlight.
McIlroy had his game face on as he contemplated the task ahead.
"All I can do is worry about myself," the Northern Irishman said.
"It's obviously exciting for the tournament, it's exciting for golf in general that he's up there but for me, all I can do is concentrate on myself.
"The game's hard enough without looking at other people. Go out there and take care of my business and hopefully that's good enough."
(Reporting by Andrew Both in Cary, North Carolina, editing by Nick Mulvenney)