China navy ship makes maiden visit to Venezuela after Maduro visit
Comments
By Reuters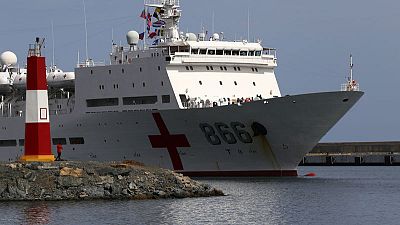 -
SHANGHAI (Reuters) – A Chinese naval ship has travelled to Venezuela for the first time, following a visit by President Nicolas Maduro to Beijing this month, where he had been looking to gain China's support for the Latin American nation's struggling economy.
The naval medical ship, known as the "Peace Ark", arrived on Saturday at the Venezuelan port of La Guaira for an eight-day period of "friendly visits" to the country, the official Xinhua news agency said on Sunday.
Maduro, whose leftist government is under fire in Venezuela as the economy struggles with a fifth year of recession and hyperinflation, visited China earlier in September. China's leaders pledged to help but made no reference to extending him new funds.
China has been a major backer of Venezuela over the years, with more than a decade of oil-for-loan agreements that helped China secure energy supplies for its fast-growing economy while bolstering an anti-U.S. ally in Latin America.
However, the flow of cash halted nearly three years ago, when Venezuela asked for a change of payment terms amid falling oil prices and declining crude output that pushed its state-led economy into a hyperinflationary collapse.
Venezuela's finance ministry said in July it would receive $250 million from the China Development Bank to boost oil production but offered no details. Venezuela previously accepted a $5 billion loan from China for its struggling oil sector but has yet to receive the entire amount.
Xinhua said that during the visit the Chinese commander of the ship would visit military and political officials and inspect Venezuelan military and medical facilities.
(Reporting by Adam Jourdan; Editing by Muralikumar Anantharaman)