Use lesson of oppression to promote tolerance, Pope urges Lithuania
Comments
By Reuters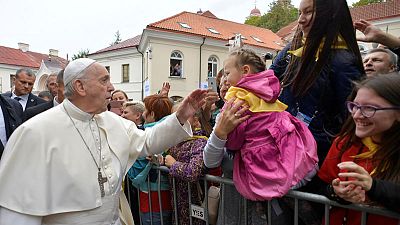 -
By Andrius Sytas
VILNIUS (Reuters) – Pope Francis said at the start of a four-day trip to the Baltics on Saturday that Lithuania should see its painful past under Soviet and Nazi domination as an impetus to promote tolerance in Europe.
Francis, on the first trip by a pope to the region since 1993, is using his visit to carry a message of solidarity for Lithuania, Latvia and Estonia as they look warily towards a newly aggressive Russia nearly 30 years after they broke away from the then-Soviet Union.
In his first speech, he warned Lithuanians to beware those "sowing division and confrontation – often by exploiting insecurity or situations of conflict – and proclaiming that the only way possible to guarantee security and the continued existence of a culture is to try to eliminate, cancel or expel others."
While he did not mention any countries, he appeared to be referring to populist governments in several European countries, including neighbouring Poland, Hungary and Italy, all of which have made political gains with anti-immigrant stands.
"Throughout its history, Lithuania was able to shelter, receive and accept peoples of various ethnic groups and religions," Francis said in a speech to President Dalia Grybauskaite and the diplomatic corps.
He praised the country's ability to overcome "totalitarian ideologies," a reference to the Nazi occupation during World War Two and Soviet domination from 1944 to 1991.
"You have suffered 'in the flesh' those efforts to impose a single model that would annul differences ….," he said, adding that Lithuanians could offer their experiences "to the European Community in particular."
Francis said Lithuania, which like the other two Baltic states is a member of the European Union and NATO, should use its history and geographic position to be "a bridge between Eastern and Western Europe".
On Sunday, the pope will visit the Museum of Occupations and Fights for Freedom, a former Soviet KGB prison in Vilnius where hundreds were murdered and thousands, including many priests, shipped off to Siberia.
The Catholic Church in Lithuania took a consistently anti-Soviet position during the annexation, and Grybauskaite thanked Francis for the Vatican's support when Lithuania was under Moscow's thumb.
The pope also will pray at a monument to the victims of the Vilnius ghetto, where only several hundred of its some 40,000 residents survived the Nazi extermination.
More than 200,000 Lithuanian Jews perished in the Holocaust and during the Soviet period a similar number of Lithuanians were sent to Siberia.
The pontiff will spend two days in predominantly Catholic Lithuania before moving on to Latvia and then Estonia.
(Editing by Philip Pullella)