Paris police take down knock-off Eiffel Tower network
Comments
By Reuters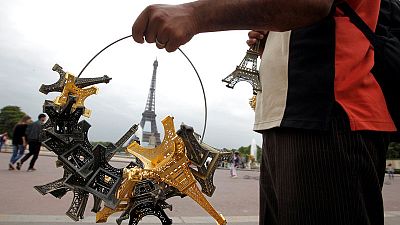 -
PARIS (Reuters) – French police have broken up a suspected criminal gang who sold miniature copies of the Eiffel Tower at tourist sites around Paris often using illegal immigrants.
The six-week operation also seized more than 20 tonnes of the trinkets stored in depots outside the capital. Police units involved in combating illegal immigration helped conduct the raids, the Paris prefecture said in a statement.
Migrants can often be seen selling the souvenirs near the Eiffel Tower and at other sites popular with tourists, including Montmartre and around Notre Dame cathedral.
"The operation led to the seizure of 20 tonnes of the trinkets stashed in boxes in Val-de-Marne and Hauts-de-Seine, as well as 15,000 euros in cash, several money-counting machines, coins and three delivery vans," the police said.
The street value of the merchandise was estimated at 600,000 euros (532,790 pounds). The smallest ones are usually sold on key-rings for as little as one euro for five copies, while larger versions can sell for as much as 10 euros a piece.
Ten people were detained for questioning, police said.
In some cases, migrants are press-ganged into selling the trinkets to pay off the debts they owe to traffickers after being smuggled into Europe from Africa. Police have said previously that many of the souvenirs are made in China.
(Reporting by Emmanuel Jarry; Writing by Luke Baker; Editing by Matthew Mpoke Bigg)