Mining halt at Germany's Hambach forest would cost RWE up to $5.9 bln - ZDF
Comments
By Reuters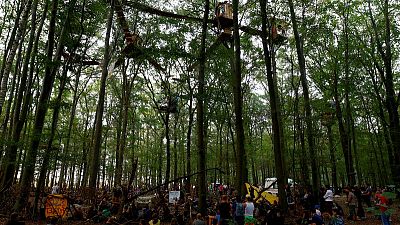 -
FRANKFURT (Reuters) – German utility RWE <RWEG.DE> would lose as much as 5 billion euros (£4.4 billion) if it cannot continue mining lignite by removing the last bit of an ancient forest in Germany, its chief executive told public broadcaster ZDF.
The company has drawn heavy criticism from environmentalists over the planned clearing of Hambach forest, located in North Rhine-Westphalia, as Europe's largest economy works on ways to phase out its coal-fired power plants.
German riot police started to clear activists this month from treehouses at the site, which was bought by RWE decades ago to expand lignite mining. RWE has faced calls to delay or cease its activities.
"Abandoning Hambach forest right away would mean about 4 billion to 5 billion euros," RWECEO Rolf Martin Schmitz said during a talk show late on Thursday, responding to how much revenues it would lose in such a case.
Schmitz said that if Hambach forest were not cleared, the group would have to obtain enormous volumes of rubble to stabilise existing mining edges, something Schmitz said he believed was not technically possible at the moment.
A man died this week after he fell from a bridge connecting some of the treehouses that are still standing at the site, police said.
(Reporting by Christoph Steitz; Editing by Edmund Blair)