KKR-backed Calsonic lines up 5 billion euro financing for Magneti takeover - sources
Comments
By Reuters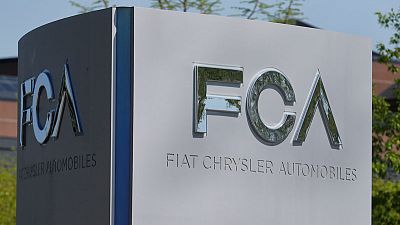 -
By Pamela Barbaglia and Arno Schuetze
LONDON/FRANKFURT (Reuters) – Calsonic Kansei has lined up around 5 billion euros (4.5 billion pounds) in financing from Japanese banks to fund its proposed acquisition of Fiat Chrysler's <FCHA.MI> unit Magneti Marelli, four sources familiar with the matter said.
The Japanese car parts maker, which U.S. private equity fund KKR bought from Nissan and other shareholders in 2016, has been in talks with Fiat Chrysler (FCA) for months and has asked the likes of Nomura and Mizuho to finance its bid.
Calsonic has made an initial proposal of 5.8 billion euros for Magneti Marelli, two of the sources said, but the final price could be revised after the Japanese group conducts in-depth due diligence on the Italian rival.
Calsonic aims to take full control of Magneti Marelli and create a group worth around 16 billion euros in revenues that will be later listed on the stock market, the sources said.
But FCA is seeking more than 6 billion euros for the diversified parts maker, which specialises in lighting, powertrain and electronics, they added.
No binding agreement has been reached at this stage and the deal could still fall apart, the sources said.
"They are still far from signing a cheque," one of the sources said, adding Calsonic was struggling to match FCA's price expectations.
While there is no exclusive or binding agreement with Calsonic, the Japanese remain the only party in talks with FCA.
Spokesmen for FCA and Nomura declined to comment. Calsonic and Mizuho were not immediately available for comment.
To help bridge the price gap, FCA or its controlling shareholder, the Agnelli family, could retain a stake in the combined entity, two of the sources said.
"A hybrid structure would allow the Agnellis to realise some value after the listing and would lower the amount of debt needed to finance the deal," one of the people said.
The financing includes senior loans equivalent to 5 times Magneti Marelli's core earnings, or 6.5 times including junior debt, one of the sources said, in a sign of abundant availability of credit even for cyclical old economy sectors.
NEWBOSS
A sale would be one of the first big decisions for new FCA Chief Executive Mike Manley, who took over in July after long-time boss Sergio Marchionne fell ill and later died after succumbing to complications from surgery.
Marchionne had set in motion a process to spin off the unit and distribute its shares to FCA shareholders by early 2019.
However, at one of his last public appearances in June, Marchionne said FCA would still be "receptive" to an offer if it "properly recognised" Magneti Marelli's value.
The deal is being structured as an outright acquisition by Calsonic to create a global auto components giant, cut costs through synergies and expand the customer base of both suppliers, the people added.
"There are synergies in driver control systems, interior electronics and modules, one of the sources said. "Together with Magneti's lamps and Calsonic's HVAC (heating, ventilation and air conditioning systems) it's a great portfolio of products."
The larger entity would also reduce Magneti Marelli's and Calsonic's reliance on FCA and Nissan respectively.
When KKR bought Calsonic, the parts maker relied on Nissan for 80 percent of its global sales.
FCA does not spell out earnings for Magneti Marelli, which sits within the carmaker's components unit alongside robotics specialist Comau and castings firm Teksid, but analysts say Magneti Marelli, which employs around 43,000 people and operates in 19 countries, could be worth up to 5 billion euros.
Magneti Marelli has often been touted as a takeover target and FCA has fielded interest from various rivals and private equity firms over the years, but a deal remains elusive as potential bidders were offering too little or were only interested in some parts of the business.
FCA also prefers the Calsonic offer to a pure private equity bidder because it limits the risk of the unit being broken up, the sources added.
However, if the talks drag out too long, FCA is ready to pursue its planned spin-off of Magneti Marelli, two of the people said.
(Additional reporting by Stephen Jewkes, writing by Agnieszka Flak; Editing by Keith Weir)