Britain posts much larger-than-expected budget deficit in August
Comments
By Reuters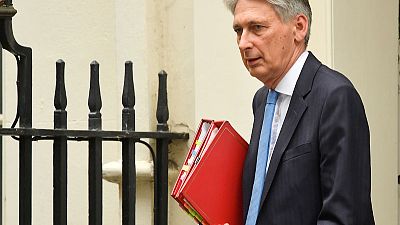 -
LONDON (Reuters) – Britain recorded a much bigger budget deficit than expected in August, driven by subdued tax receipts, a boost to the state pension and a contribution to the European Union's budget, official data showed on Friday.
The deficit in August stood at 6.753 billion pounds, compared with 4.345 billion pounds a year ago, the Office for National Statistics (ONS) said. A Reuters poll of economists had pointed to a reading of 3.4 billion pounds.
While this marked the first year-on-year increase in net borrowing for the month of August in three years, the picture still remained largely positive for Chancellor of the Exchequer Philip Hammond, who is preparing his annual budget statement.
The deficit for the first five months of the current 2018/19 financial year stood at 17.8 billion pounds, down 30.5 percent from the same point a year ago.
The figures for August showed tax receipts rose 1.6 percent compared with a year ago, while spending was up 5.4 percent.
For the April-August period, however, receipts were up 4.0 percent while expenditure was up by only 1.9 percent.
The deficit stood at 9.9 percent of GDP when Hammond's predecessor, George Osborne, took power in 2010 and started a multi-year programme of public spending cuts, and is expected to fall to just under 2 percent this year.
Prime Minister Theresa May, mindful of voter fatigue after years of spending restraint, has promised an extra 20 billion pounds a year in public healthcare funding, phased in over the next five years. Hammond has said he will explain how this will be funded in his autumn budget statement.
Public support in Britain for increased levels of tax to fund more public spending has hit a 15-year high, a National Centre for Social Research survey showed earlier on Friday.
Hammond wants a budget surplus by the mid-2020s, in order to cut national debt as a share of GDP which he says is too high to easily support a big rise in public spending during a future deep recession.