BOJ tankan seen showing manufacturers' mood up slightly, but outlook murky
Comments
By Reuters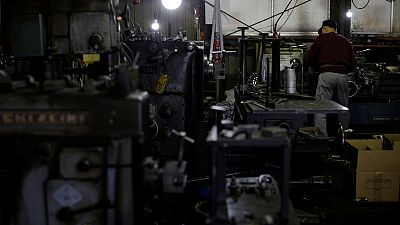 -
By Kaori Kaneko
TOKYO (Reuters) – Business confidence among Japan's big manufacturers was expected to have edged up in the three months to September, although trade worries cloud the outlook, a Reuters poll found ahead of the central bank's quarterly sentiment survey.
The Bank of Japan's quarterly tankan survey is expected to show the headline index for big manufacturers' confidence rose to plus 22 in September from plus 21 three months ago, the poll of 16 economists showed.
The sentiment index for non-manufacturers was seen slipping to plus 22 from plus 24 in the June survey, the poll found.
The expected deterioration in service-sector sector mood would follow natural disasters such as flooding rains in western Japan and earthquakes in northern Hokkaido that disrupted distribution and tourism.
"The economy remains solid, but the China-U.S. trade conflict and natural disasters' negative impacts are likely to be felt in the survey," said Akiyoshi Takumori, chief economist at Sumitomo Mitsui Asset Management.
The BOJ tankan's measure of big manufacturers' business confidence is expected to decline in the coming quarter to plus 19 while non-manufacturers' sentiment is seen deteriorating to plus 20, the Reuters poll found.
Big companies were seen raising capital spending plans for this fiscal year by 14.2 percent, upgrading from 13.6 percent in the previous tankan survey.
The Bank of Japan will publish its tankan survey results at 8:50 a.m. Japan time on Monday Oct. 1. (2350 GMT on Sept. 30).
The monthly Reuters' Tankan, which tracks the BOJ's quarterly survey, found confidence among Japanese manufacturers slipped in September from August's seven-month high..
FACTORYOUTPUT, TOKYOCORECPI
Industrial production is seen likely to show a 1.5 percent gain in August from July, rising for the first time in four months.
Such gains would follow a resumption of vehicle production after July's heavy rains and flooding in western Japan forced some companies to stop work.
"Exports of autos returned to growth in August and semiconductor-related shipments were solid. We expect factory output rose – led by transport equipment," said Hirotaka Yazawa, economist at Mizuho Research Institute.
The trade ministry will publish factory output data at 8:50 a.m. on Friday Sept. 28 (2350 GMT on Sept. 27).
The Tokyo area's core consumer price index (CPI) likely rose 0.9 percent in September, unchanged from August, the poll found.
The index, which includes oil products but excludes fresh food prices, is available a month earlier than the national data.
"Only energy costs contributed to gains in the index but other prices have not shown any acceleration," said Yoshiki Shinke, chief economist at Dai-ichi Life Institute.
The poll also found retail sales were expected to have grown 2.1 percent in August from a year earlier, up for 10 straight months, as car sales rose and higher oil prices drove up fuel costs.
The government will publish the core CPI for Tokyo at 8:30 a.m. on Friday and retail sales at 8:50 a.m.
(Reporting by Kaori Kaneko; Editing by Eric Meijer)