Americans desperate to end 25 years of Ryder Cup travel sickness
Comments
By Reuters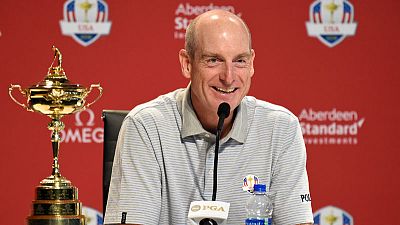 By Mitch Phillips
LONDON (Reuters) – When the United States were cruising through 12 successive Ryder Cup victories (plus a tie) from 1959-85 it would have been a brave man to suggest they would soon go 25 years without an away win, yet that is the stark reality now facing Jim Furyk's team.
Incredibly, that last success, at the Belfry in 1993 under the stewardship of Tom Watson, is the Americans' only away victory since 1981.
During that 37-year period Europe have won on American soil four times and repeatedly triumphed in England as well as Spain, Ireland, Wales and Scotland. Next week they will seek to add France to the roll of honour ahead of Italy hosting the event in 2022.
It is one of the most dramatic turnarounds in fortune of any long-running sports event and the most remarkable aspect is that Europe have gone into just about every edition a clear second in terms of rankings, just as they did as Britain and Ireland during that long barren run.
It will be the same at the Golf National Course to the west of Paris from Sept. 28-30 – but only just.
Americans Brooks Koepka (two), Dustin Johnson (three), Justin Thomas (four), Bryson DeChambeau (eight), Rickie Fowler (nine), Jordan Spieth 10), Bubba Watson (13) and Patrick Reed (14) represent a sizable chunk of the top end of the world rankings.
And with the extraordinary experience and majors success that comes with wild cards Tiger Woods and Phil Mickelson – making his 12th successive appearance – it is a formidable-looking lineup.
Yet Europe boast the newly-installed world number one in Ryder Cup stalwart Justin Rose along with Rory McIlroy (five), Francesco Molinari (six), Jon Rahm (seven) and Tommy Fleetwood (12) so it is not exactly a David and Goliath contest.
Captain Thomas Bjorn has also plumped for experience over form with his wildcards as Sergio Garcia and Ian Poulter have been at the heart of so many European successes over the last few years.
Those selections represent the nub of the matter and illustrate that special imponderable which gives the Ryder Cup such universal appeal.
Some players, Poulter being a prime example now and Seve Ballesteros in the early days of Europe's rise, revel in the white heat of the Ryder Cup.
They are lifted by being part of a team after spending 103 of the previous 104 weeks focussed almost entirely on themselves.
CROWDNOISE
They thump their chests and punch the air, they thrive on the crowd noise, lift their team mates and cow opponents in a style unthinkable in any other tournament.
Others, often more talented on paper, fail to produce the level of golf that got them into the team, struggle to form partnerships and fold under the pressure.
The Americans take huge exception to the idea that they are unable to bond as well as their European rivals – something that is raised as an explanation every time they lose overall or particularly struggle in foursomes.
Yet that suspicion remains and the selection of Woods and Mickelson, disastrously paired in 2004 but definitely kept apart this time, will bring that concept back to the fore.
Mickelson's public annihilation of Watson's captaincy after the crushing defeat at Gleneagles in 2014 was the first step in building a better-functioning group for Hazeltine when a harmonious U.S. team handed out a similar thrashing two years later.
Woods missed that event and though his inclusion on the back of a hot streak of form seemed to be widely applauded this year, the dynamic of his presence – even in his reinvented Tiger II persona – may not benefit the American team.
His pairs record in the Ryder Cup is poor – certainly when held against his stellar individual achievements – and he has not been part of a winning team since last century.
At the other end of the experience scale, Europe take the stage with five first-timers to three for the U.S but that is not necessarily a disadvantage.
There is no set formula for winning or forming successful partnerships or just about anything else – which is why the Ryder Cup remains one of the most mesmerising events in the sporting calendar.
(Reporting by Mitch Phillips, editing by Ed Osmond)