Flooding expected to worsen as Florence passes through Carolinas
Comments
By Reuters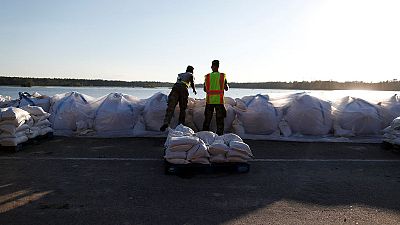 By Ernest Scheyder
CONWAY, S.C. (Reuters) – Flooding across the Carolinas in the aftermath of Hurricane Florence, which has killed 36 people, was expected to worsen over the next couple of days, forecasters said.
Twenty-one flood gauges showed major or moderate flooding early on Thursday in southeast North Carolina and northeast South Carolina, where major waterways, well above their flood stages, were forecast to rise through the weekend before they crest, the National Weather Service said.
"People in flood prone areas or near waterways need to remain alert as rivers crest and stay above their banks in coming days," North Carolina Governor Roy Cooper said in a written statement. "Stay alert, and stay safe."
Florence dumped up to 36 inches (91 cm) of rain in parts of North Carolina, and many areas remained cut off by floodwaters and inundated roads. The slow-moving storm, which made landfall on Friday as a Category 1 hurricane, has since been downgraded to a tropical depression and moved into the U.S. northeast.
The deaths of at least 36 people have been attributed to the storm, including 27 in North Carolina, eight in South Carolina and one in Virginia. The latest victims were two women in South Carolina who drowned on Tuesday when a sheriff's department van in which they were riding was swept away by flooding.
Some 2,600 people had been rescued by boat or helicopter in North Carolina alone since the storm hit land, according to the state Department of Public Safety. About 10,000 remained in shelters and over 160,000 customers were without power across North Carolina, the department said.
As floodwaters continue to rise concerns are growing over the environmental and health dangers lurking in the water.
The flooding has caused 21 hog "lagoons," which store manure from pig farms, to overflow, creating a risk the standing water will be contaminated with bacteria like salmonella, according to the state's Department of Environmental Quality. North Carolina is one of the leading hog-producing states in the country.
Several sewer systems in the region have also released untreated or partly treated sewage and storm water into waterways over the last week, local media reported.
U.S. President Donald Trump warned South Carolina that "water is coming your way" as he toured the area on Wednesday.
"Now it looks nice, but it's really the calm before the storm," Trump said.
Experts have said that climate change has increased the likelihood of more massive, sluggish storms like Florence, capable of dropping record amounts of rain and touching off catastrophic flooding.
(Reporting by Jeff Mason and Ernest Scheyder; additional reporting by Anna Mehler Paperny in North Carolina, Roberta Rampton in Washington, Bernie Woodall in Miami; Brendan O'Brien in Milwaukee; Jessica Resnick-Ault and Barbara Goldberg in New York and Dan Whitcomb in Los Angeles; writing by Dan Whitcomb; editing by Bill Tarrant, Lisa Shumaker and Larry King)