ECB must discuss rate path beyond first hike: Praet
Comments
By Reuters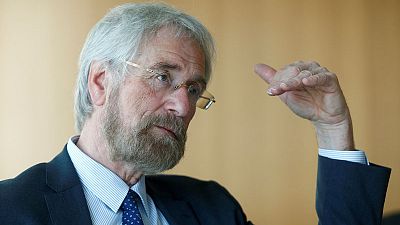 -
NEWYORK (Reuters) – From next year, the European Central Bank will need to communicate the expected path of interest rates beyond its initial hike to keep market prices consistent with a slow rise in inflation, ECB chief economist Peter Praet said on Thursday.
Praet's comments add to the argument for more extensive guidance, to ensure that investors continue to price only very slow policy normalisation.
Having bought 2.5 trillion euros' worth of debt to keep borrowing costs at a record low, the ECB has been slowly dismantling stimulus, but only by the smallest of increments, to keep markets calm and avoid a selloff that could unravel its stimulus.
"Today's term structure of money market interest rates … embodies a very moderate pace of rate rises beyond the expected date of lift-off," Praet told a conference in New York.
"In order for that segment (of the market) to remain consistent with a continued gradual inflation convergence, our communication on policy adjustments beyond the first rate hike will become increasingly important," Praet said.
The comments appear to echo an argument from fellow board member Benoit Coeure, who said this week that more extensive rate guidance may be needed, which would lay down the conditions for further moves.
Lending support for such a formulation, Praet argued that the ECB's June guidance, which also contained such conditionality, was a success since markets priced the ECB expected move in line with policymakers' own projection.
Expectations for the hike, now priced for the fourth quarter of next year, tend to move. Praet said this was a sign that markets understood the ECB's conditionality since euro zone economic performance impacted the timing of the move.
The ECB targets inflation at just below 2 percent but has missed for years and is unlikely to hit its target before the end of the decade.
While wages seem to be finally moving higher, Praet poured cold water on expectations that this would automatically boost inflation.
"Tighter wage growth does not mechanically translate into higher inflation," Praet said.
"There is evidence that the degree to which firms pass on rising costs in the form of higher prices depends on whether they perceive cost pressures to be persistent."
Praet said the ECB's stock of bonds would slowly lose duration over time. This indicates that the bank does not expect to buy enough long-dated papers from the proceeds of maturing papers to keep the duration steady.
(Reporting by Jonathan Spicer; Writing by Balazs Koranyi; Editing by Andrew Roche)