Cowboys extend reign as most valuable NFL team - Forbes
Comments
By Reuters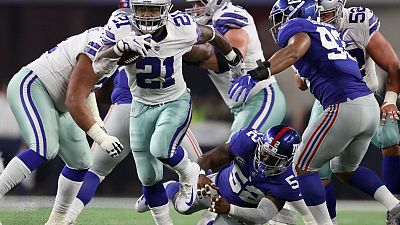 -
(Reuters) – The Dallas Cowboys are the most valuable National Football League team for a 12th consecutive year, valued at nearly twice the league average, according to the annual list https://www.forbes.com/nfl-valuations/list published by business magazine Forbes on Thursday.
The Cowboys, who have reached the playoffs only nine times since winning their last Super Bowl in 1995, are worth $5 billion, up 4 percent from last year, Forbes said in a statement.
Dallas, who in July were ranked the world's most valuable sports team for a third consecutive year by Forbes, are the first sports team to reach a value of $5 billion (3.77 billion pounds), the business magazine said.
The New England Patriots ($3.8 billion), New York Giants ($3.3 billion), Los Angeles Rams ($3.2 billion) and Washington Redskins ($3.1 billion) rounded out the top five.
The reigning Super Bowl champion Philadelphia Eagles were 10th on the list after their value rose 4 percent to $2.75 billion.
Forbes calculated the average value of the NFL's 32 teams at $2.57 billion. The 2 percent jump in the average team value was the smallest increase since 2010, which Forbes attributed to "the dearth of people who have the liquid wealth to buy 30 percent of an NFL team."
The 10 most valuable NFL teams:
1. Dallas Cowboys ($5 billion)
2. New England Patriots ($3.8 billion)
3. New York Giants ($3.3 billion)
4. Los Angeles Rams ($3.2 billion)
5. Washington Redskins ($3.1 billion)
6. San Francisco 49ers ($3.05 billion)
7. Chicago Bears ($2.9 billion)
8. New York Jets ($2.85 billion)
9. Houston Texans($2.80 billion)
10. Philadelphia Eagles ($2.75 billion)
(Reporting by Frank Pingue in Toronto; Editing by Toby Davis)