Carige's top investor secures majority of new board
Comments
By Reuters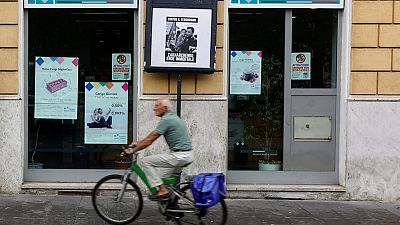 -
By Valentina Za and Andrea Mandala
GENOA, Italy (Reuters) – Carige's top investor <CRGI.MI> secured a majority of seats on the beleaguered Italian bank's new board on Thursday, after falling out with a third chief executive in three years and pushing for a shake-up.
A boardroom fight that erupted over the summer has thrust Italy's last remaining large problem bank back into the spotlight, after it struggled to raise capital in late 2017 to stave off the risk of being wound down.
The newly-elected board will meet shortly to appoint UBS banker Fabio Innocenzi as Carige's new chief executive, as top shareholder Vittorio Malacalza defeated a group of rival investors who wanted to keep in place the current CEO to quickly steer Carige towards a merger.
Based in the port city of Genoa and heavily exposed to the battered local economy, Carige has been weakened by decades of mismanagement, with regulators flagging poor lending practices and questionable accounting methods.
Italy's worst recession since World War II and the shipping industry's slump have saddled Carige with a pile of bad loans that former CEO Paolo Fiorentino had been working to reduce.
But like his predecessor, Fiorentino lost the confidence of Malacalza, a feisty steel magnate, has invested more than 400 million euros (353.87 million pounds) in Carige since 2015, building a 27.6 percent stake which is worth just 135 million euros at current market prices.
Malacalza on Thursday managed to appoint seven of 11 directors on the board of Italy's 10th-largest bank, and his victory could push back the prospect of a merger which regulators have asked Carige to consider.
"We shouldn't start by talking about a merger. A good board assesses the situation and then discusses it with the regulator," Vittorio Malacalza said after the vote.
The European Central Bank (ECB), which is unhappy with the frequent management changes, has given Carige until the end of the year to fill a gap in its second-tier capital, unless it seeks a merger with a stronger peer.
Carige has so far failed to sell hybrid debt on the market to replenish its capital. It must now submit a capital plan to the ECB by Nov. 30.
"The ECB's deadlines are reasonable. We are not here to improvise, we know exactly what we need to do," said Pietro Modiano, a veteran Italian banker picked by Malacalza as Carige's new chairman.
"No more mistakes in Genoa: this is my commitment."
Modiano said the top shareholder would stand by the bank if it needed more capital, a pledge reiterated by Malacalza's two sons Davide and Mattia.
"We'll do our part," Davide said when asked about possible additional capital needs.
Carige has raised a total of 2.2 billion euros in three successive cash calls since 2014, when it failed Europe-wide stress tests of the sector and moved under direct ECB oversight.
The bank has been selling off its assets to stay afloat but it can still boast a solid client base, bankers say, and would see its funding costs drop sharply if taken over.
A quick merger was the goal of London-based Italian financier Raffaele Mincione, who had struck a pact with other two shareholders over 15.2 percent of Carige's capital.
But with voting rights capped at 9.99 percent due to a regulatory issue, the three managed to appoint only three board members on Thursday, including Mincione himself.
Malacalza's representative told Thursday's meeting Mincione's plan was "as simple … as it is dangerous" because the bank had no suitors at present and pursuing a merger at all costs risked endangering its survival. ($1 = 0.8527 euros)
(Editing by Mark Potter, Susan Fenton and Alexandra Hudson)