Merkel coalition slides into 'permanent crisis mode' with spy row
Comments
By Reuters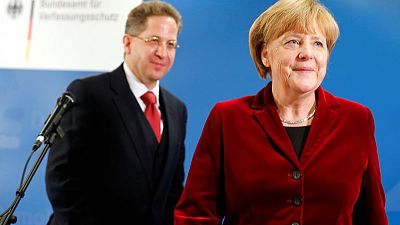 By Paul Carrel
BERLIN (Reuters) – A clumsy compromise to end a row over the fate of Germany's spy chief has exposed a cruel fact: the parties in Chancellor Angela Merkel's right-left coalition are loveless partners in a dysfunctional relationship that none of them can afford to quit.
The coalition leaders sought on Tuesday to end a scandal that had rumbled on for 11 days by agreeing to replace the head of the BfV domestic intelligence agency, who has faced accusations of harbouring far-right sympathies.
Their solution – promoting spymaster Hans-Georg Maassen to a better paid position at the Interior Ministry – has only inflamed tensions among the rank-and-file of the ruling parties, whose leaders are united by fear more than collective purpose.
The scandal, the latest in a series of setbacks to shake the six-month-old coalition, threatens to erode further the German ruling elite's authority and may point to years of policy drift just as Germany and Europe are crying out for firm leadership.
Polls show both Merkel's conservative bloc and its junior coalition partner, the centre-left Social Democrats (SPD), would bleed votes to the far-right Alternative for Germany (AfD) and the ecologist Greens in any new elections.
That leaves their leaders hanging on to the awkward right-left 'grand coalition' as Merkel, serving her fourth and likely final term as chancellor, tries to secure her legacy as a stateswoman and the SPD struggles to remain relevant to voters.
"The grand coalition is like a dead marriage where the spouses have too many intertwined assets to be able to separate without heavy losses," said Josef Joffe, publisher-editor of weekly Die Zeit.
"They would be trounced in snap elections. Nor can they recruit more docile partners among the four opposition parties."
The Maassen scandal comes only two months after Merkel closed a painful row with her Bavarian CSU allies on immigration – an issue that goes back to her 2015 decision to leave open Germany's borders to refugees fleeing war in the Middle East.
The SPD had wanted Maassen removed after he questioned the authenticity of video footage showing far-right radicals hounding migrants in the eastern German city of Chemnitz.
But Interior Minister Horst Seehofer, leader of the Bavarian Christian Social Union (CSU), sister party of Merkel's Christian Democrats (CDU), stood behind Maassen.
By promoting the spymaster to the post of state secretary in his Interior Ministry, Seehofer found a solution that satisfied the SPD's demand for Maassen's removal from the BfV but left the coalition looking lame.
"The only thing that is still grand in this coalition is the absolute determination to carry on muddling through," mass-selling daily Bild wrote in an editorial in its Tuesday edition.
"PERMANENTCRISISMODE"
The grand coalition only took office in March, nearly six months after last year's election, as there was effectively no other viable governing option following the collapse of talks between Merkel's conservatives and two smaller parties.
After the Maassen deal, pressure is growing in the SPD for its leaders to reconsider the coalition or else deliver results that will win back working class voters who are turning to the far right or left, and middle class voters moving to the Greens.
"Patience in the SPD with this grand coalition is extremely thin," said Ralf Stegner, a senior SPD official.
Even SPD Secretary General Lars Klingbeil questioned Maassen's promotion, adding: "We must finally get out of this permanent crisis mode."
Merkel's 2015 decision on refugees has proved to be the defining moment of her leadership and one that still haunts her as the CSU, fearful of losing votes to the AfD in Bavaria's state election on Oct. 14, tries to sound tough on immigration.
The CSU is likely to lose its absolute majority in Bavaria, which could make it an even more difficult partner for Merkel.
Nationally, the conservative bloc is polling around 30 percent, down from 33 percent in last September's election. The SPD is on about 18 percent, down from 20.5 percent. The AfD is polling around 15 percent, with the Greens close behind.
"So it is in (Merkel's) interests to keep up the image of a coalition that is functional and capable of acting," said Gero Neugebauer, political scientist at Berlin's Free University.
"She is managing to do that less and less," he said, adding that even after the Maassen deal conflicts between the coalition parties were "bubbling away like lava in a volcano".
(Editing by Gareth Jones)