Japan exports rise as U.S.-bound shipments grow amid trade war fears
Comments
By Reuters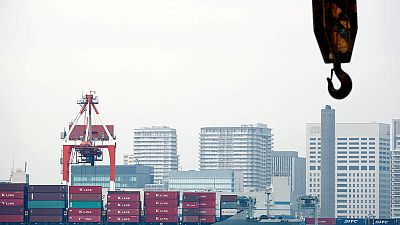 -
By Tetsushi Kajimoto
TOKYO (Reuters) – Japan's export growth accelerated in August from the previous month as shipments to the United States grew as Tokyo looks to avert a trade war through talks with Washington expected later this month.
Ministry of Finance data out on Wednesday showed exports rose 6.6 percent in August from a year earlier, handily beating a 5.6 percent increase expected by economists in a Reuters poll. It followed a 3.9 percent gain in July.
Japan's exports to the United States rose 5.3 percent in the year to August, the first gain in three months, led by medicines, construction and mining machinery. U.S.-bound car exports fell for a third straight month, pulling back from last year's brisk shipments.
However, the trade data also showed imports from the United States surged 21.5 percent in August, led by aircraft and liquefied natural gas, cutting Japan's trade surplus with the United States by 14.5 percent year-on-year to 455.8 billion yen ($4.06 billion).
The data comes as the Bank of Japan debates at a policy review ending on Wednesday how trade frictions could undermine growth in the export-reliant economy, although there are no clear signs trade tensions with Washington have hit Japan's exports.
Japan is hoping to avert steep tariffs on its car exports and fend off U.S. demands for a bilateral free trade agreement at a second round of trade talks with the United States, likely to take place later this month.
Japan fears a bilateral deal could put it under pressure to open politically sensitive sectors such as agriculture.
Japan's biggest automakers and components suppliers also worry they would be hit hard if Washington follows through on proposals to hike tariffs on autos and auto parts to 25 percent.
The trade data showed exports to China, Japan's biggest trading partner, rose 12.1 percent in the year to August.
President Donald Trump escalated his trade war with Beijing on Monday, imposing 10 percent tariffs on about $200 billion worth of Chinese imports, adding to worries of fallout from the intensifying trade war between the United States and China.
Shipments to Asia, which account for more than half of Japan's overall exports, rose 6.8 percent.
Overall imports rose 15.4 percent in the year to August, roughly in line with the median estimate for a 14.9 percent annual increase.
The trade balance was deficit of 444.6 billion yen, largely matching the median estimate for a shortfall of 468.7 billion yen.
($1 = 112.2600 yen)
(Reporting by Tetsushi Kajimoto; Editing by Eric Meijer)