Italy's Savona seeks euro zone debt restructuring, backed by ECB
Comments
By Reuters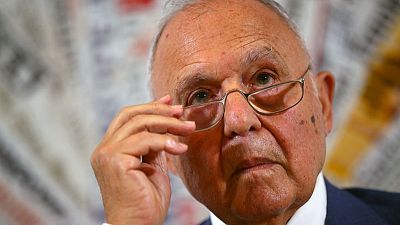 -
By Gavin Jones
ROME (Reuters) – Italy wants the public debt of all euro zone states to be brought below 60 percent of gross domestic product, via a long-term restructuring underwritten by the European Central Bank, its European Affairs Minister wrote.
The proposal was made in a paper posted on the website of Paolo Savona's ministry and sent to the European Commission.
At around 132 percent of GDP, Italy's public debt is the second highest in the bloc after Greece, and the anti-establishment coalition that took office in June has outlined expansive spending plans for 2019 that would exceed budget deficit targets Rome previously agreed with the commission.
Savona, the coalition's original pick as economy minister but vetoed by the head of state due to his critical opinion of the euro, envisages a reduction of countries' debts to the 60 percent threshold set under Brussels guidelines through "a very long-term repayment plan and at official rates."
To help the reduction process, the ECB should offer a "guarantee" in exchange for "a mortgage on future tax revenue or individual public assets in the event of non-repayment of one or more instalments," the 81-year-old economist writes.
A spokesman for the Commission said it had received Savona's paper, which it welcomed along with other contributions to a "very important debate" on euro zone reform. In Frankfurt the ECB had no immediate comment.
In his current job, Savona has retained a role in economic policymaking and is involved in discussions over the 2019 budget, which is to be presented next month.
Savona also says in his paper that stronger guarantees are needed to safeguard the solidity of the currency bloc, arguing that "there is no reason why bank deposits should be protected while sovereign bonds are not."
The new government is pushing for a broader role for the ECB and Savona has said before that it should be given greater powers to influence exchange rates.
Claudio Borghi, economic spokesman of the right-wing League which governs Italy with the 5-Star Movement, has urged the bank to cap bond yields to ensure the spread among any two euro zone countries cannot exceed 150 basis points.
The 10-year debt spread between Italy and euro zone benchmark Germany is currently around 235 bps.
(additional reporting by Francesco Guarascio in Brussels and Balazs Koranyi in Frankfurt; editing by John Stonestreet)