German regional government to appeal Frankfurt ban on older diesels
Comments
By Reuters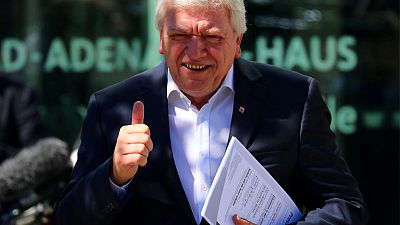 -
FRANKFURT (Reuters) – A looming ban on older diesel vehicles from Germany's financial capital faces a legal challenge from the state government, deepening controversy over how to handle the fallout from an emissions cheating scandal that has rocked the car industry.
The state government of Hesse said on Wednesday it would appeal a court decision that would ban highly polluting older models from the streets of Frankfurt from next February.
Frankfurt is emerging as a test case on how to handle rising air pollution in German cities, following a landmark ruling by the country's top federal court in February that opened the door to such inner-city bans.
Hesse's Prime Minister Volker Bouffier, a member of Chancellor Angela Merkel's Christian Democrats who is fighting a regional election in October, said a series of measures he proposes would do as good a job as the diesel ban.
"Planned measures, such as deploying electric buses, building better cycle paths and more park-and-ride offerings would in practice have the same effect as a general driving ban," he said in a joint statement with Environment Minister Priska Hinz.
The proposed bans follow scandals at Volkswagen AG <VOWG_p.DE> and other German carmakers that were found to have exceeded emissions limits, leaving vehicles on the road that are far more polluting than their buyers were led to believe.
Merkel's government has, meanwhile, dithered over whether to require manufacturers to carry out costly retrofits on older models with exhaust-cleaning systems that would help reduce urban air pollution.
Around a quarter of the cars on the roads of Frankfurt, whose population nearly doubles by day as commuters come into the city, would be affected by the court-ordered ban.
At first, diesel cars meeting Euro-4 standards and petrol-powered vehicles running to Euro-1 and 2 would be barred from the city. The ban would be extended to Euro-5 diesels from next September, but not to newer, Euro-6 models.
Deutsche Umwelthilfe, the environmental group that brought the Frankfurt case, argues banning diesels is the only way to meet European Union clean air rules which stipulate that nitrogen dioxide pollution should not exceed 40 micrograms per cubic meter of air on average.
The city of Hamburg this year voluntarily blocked diesel models that fail to meet the Euro-6 emissions standard from selected trunk roads. Other cities including Aachen, Duesseldorf and Stuttgart, are also considering bans.
(Reporting by Hakan Ersen; Writing by Douglas Busvine; Editing by Mark Potter)